Bathroom Sinks In San Diego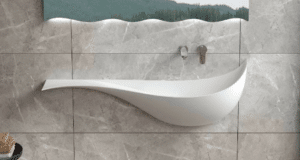 A single dramatic bathroom sink can make a powerful statement, but two sinks—his and hers—might be more appropriate in larger bathrooms. Different bathroom sink styles may be more suited to different bathroom designs: for example, a compact city bathroom would benefit from a space-saving wall-mounted model, while an ultra-modern bathroom might benefit from a glass vessel sink. 
Pedestal sinks have a bowl that sits on a pedestal base and is at a comfortable standing height. Pedestal sinks made of porcelain are very popular. 
Sinks that are wall-mounted or floating are suspended from the wall at a convenient standing height. For extra stability and to hide piping, some wall-mounted sinks include a matching base beneath the basin. Sinks that are installed on the wall are extremely beneficial in compact bathrooms.
Pedestal Sinks
This is a fantastic alternative because the pedestal provides a lovely aesthetic element to the table. The negative is that you lose storage space, which is often necessary for small bathrooms. Stainless steel pedestals and glass pedestals are the latest trends.
Wall Mounted Sinks
If you prefer an open concept design, this is a good option. By mounting the sink to the wall, you may keep the space under the sink open. The plumbing pipes are normally visible, but you can upgrade to pipes with a more appealing appearance by using special-finish pipes. A large assortment of new European wall mount sinks is available. However, for a variety of reasons, it is not viable to utilize a wall-mounted sink in every bathroom.
Vanity Or Countertop Sinks
This is the most common option because it conceals the pipes while also providing storage under the sink. Vanity cabinets come in a variety of styles and price ranges. A vanity with a drop-in sink and countertop that runs the length of the wall to the toilet is a common design. It's dubbed a "banjo" countertop because it narrows over the toilet like the neck of a banjo. A vanity sink is a self-rimming basin with rolled sides that slots into the countertop directly. Under-counter sinks are attached to the countertop's underside. Both styles are utilized in conjunction with bathroom vanities and consoles to give much-needed storage space for toiletries and miscellaneous items. 
Vessel Sinks
This is the most recent sink craze. It is made up of a huge bowl installed on top of a surface, most commonly a countertop or cabinet. Vessel sinks come in any material you can think of. See-through glass and natural stone are popular choices. Typically, they are found in guest bathrooms or powder rooms. The negative is that vessel sinks are inconvenient to use on a regular basis. They are difficult to wash and brush because of their unusual form and size.