Kitchen Sinks In San Diego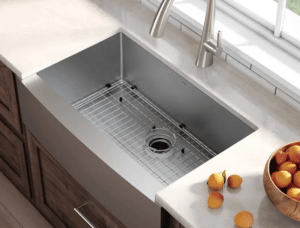 The sink is the centerpiece of your kitchen: not only does it serve as a place to prepare food and clean dishes, but it also sets the tone for the entire space. Finding the right balance between your kitchen's style and your family's demands may be difficult, so it's worth taking some time to consider the various types of sinks available today. Choose from a solid farmhouse sink that can handle a lot of dirty pots and pans to a sleek double basin undermount type or even a distinctive vessel bowl. We work with a variety of materials, including stone, metal, clay, acrylic, and even wood, so we can accommodate any design concept. 
Undermount Kitchen Sinks
Kitchen cabinets are divided into three categories: standard, semi-stock, and custom. The least expensive cabinet doors are stock or prefabricated cabinet doors, whereas custom cabinets are the most expensive because they are developed and constructed just for your kitchen. 
Drop-in Kitchen Sinks
Drop-in or self-rimming sinks have a rim or lip around their outer edge and are very simple to install: simply place the sink in a hole in your countertop and fasten it. Drop-in sinks are available in a range of materials, including stainless steel, porcelain, copper, stone, wood, and cast acrylic, just like under-mount sinks. Choose from single, double, or triple bowl configurations, as well as square, round, or rectangular shapes, to get the ideal balance of aesthetic and functionality. 
Farmhouse Kitchen Sinks
Consider a robust farmhouse sink for a timelessly elegant look. Farmhouse sinks are large and deep, with an exposed front panel or apron, and can be installed on the wall or on top of the counter. (Faucets should be mounted immediately on the counter or behind the sink basin.) The plain or ornamented fronts of these Old World sinks are available in porcelain, enamel, stainless steel, copper, stone, and wood. Depending on your demands, you can choose between single and double bowl arrangements. 
Bar Or Prep Kitchen Sinks
Installing a little second sink can drastically improve your kitchen's efficiency. These drop-in and under compact mount sinks are best used in a bar area or on a kitchen island to provide extra space for a second cook or to service your bar or to allow you and your culinary partner to clean or prepare food at the same time in a busy kitchen. These smaller sinks come in a variety of designs and materials, including stainless steel, copper, brass, bronze, porcelain, and cast acrylic, making them easy to match with your existing decor.
Utility Kitchen Sinks
Utility sinks that are both strong and lasting are crucial in laundry rooms and basement workshops. Choosing an under-mount or wall-mounted utility sink for your home's workspace has never been easier, whether you need a place to soak laundry or clean paint brushes.