Bathroom Vanities And Countertops In San Diego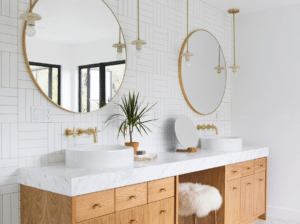 Are you looking for the ideal kitchen counter? Home Kitchen Bath Remodeling of San Diego has thousands of alternatives to pick from, as well as trained Remodeling Consultants who can match your aesthetic preferences to your cooking requirements. 
Are you a busy cook who needs engineered stone's long-lasting durability? Or do you simply want marble's exquisite appearance? Whether you prefer the look of ceramic or want a fully customized concrete countertop for your modern kitchen, Home Kitchen Bath Remodeling of San Diego provides full-service benefits from design and product selection to final installation, making the process as simple as possible for you.
Three Steps To Perfect Countertops
Research: This may be a time-consuming as well as a creative process, so a skilled Remodeling Consultant can assist you in narrowing down your selections. 

Select: Choose materials that bridge the gap between who you wish to be and who you are. To put it another way, don't choose delicate materials unless you're prepared to care for them.

Install: A shoddy installation can make any material look shabby, so pick a contractor who can carry out your design concept.
Choose Carefully
Kitchen counters should not only serve your cooking demands, but they should also offer beauty and elegance to the house's busiest space. This is why the type of countertop you select for your kitchen in San Diego is so important, both in terms of overall design and functionality. 
You must not only choose a material and color that complements the overall design of your kitchen—whether rustic charm or Soho chic—but you must also consider your family's demands. Some materials, for example, are easier to clean than others, while others require expensive and ongoing upkeep. Stop by one of Home Kitchen Bath Remodeling of San Diego's local showrooms in San Diego, CA, to examine our samples and speak with a Home Kitchen Bath Remodeling of San Diego design consultant to select the appropriate product—whether it's a Brazilian granite countertop or a custom concrete countertop.