ROOM ADDITIONS SAN DIEGO
California has relaxed the restrictions for room expansions, often known as attached ADUs (accessory dwelling units), making it easier than ever to add a room to your home. So, what kind of space can you add to your house? You can have whatever you want! It is all up to you, and Home Kitchen and Bath Remodeling of San Diego will work with you to make your desired room expansion a reality.
There are numerous reasons why someone would require a room addition; for example, San Diego is experiencing a housing crisis, and a room addition that can be rented out can assist people looking for an affordable place to stay. There are few boundaries to what you can do with a room extension in San Diego. It can be utilized to accommodate a growing family, friends, or relatives that drop by unexpectedly and even as a personal spot for work or leisure.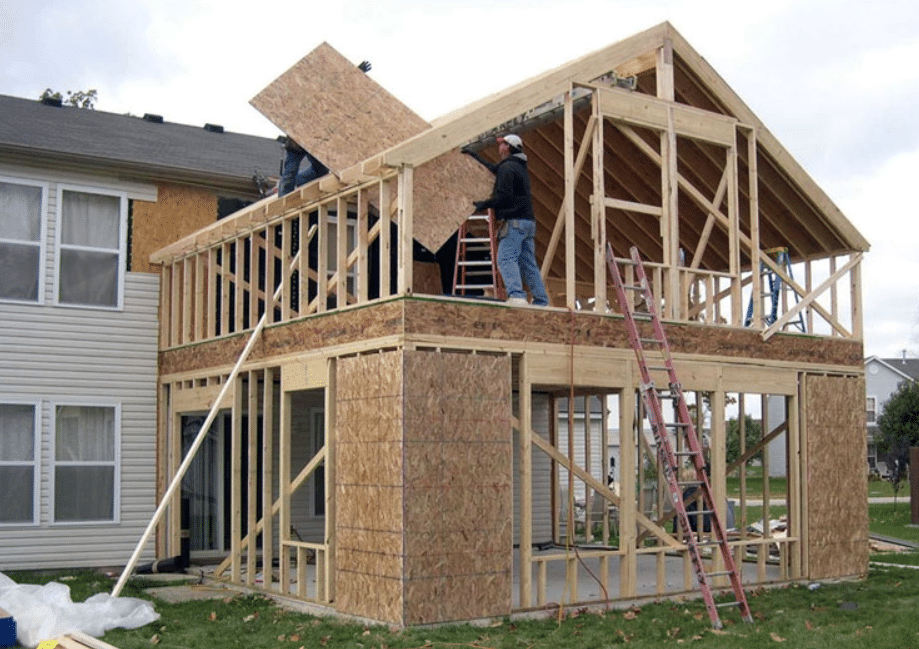 THE BASICS OF ROOM ADDITIONS IN SAN DIEGO
Whatever type of room is added to the house, it must fit and flow with the rest of the house, both inside and out. From the interior, utilities such as plumbing, electricity, and HVAC must flow seamlessly into the new area without feeling cramped in.
The interior design of the room extension must also be consistent with the rest of the house. The same is true for the external design of the room addition; it must appear to be a part of the original home, or else it will stand out like a sore thumb. When a room addition is done properly, it will appear as if it has always been a part of the original house.
WHERE ON THE HOME DOES THE ROOM ADDITION FIT?
An addition can be built anyplace on the home where there is space, so you can build out or build up; for example, you could add a room addition to the first or second floor of a house. If the house does not already have a second story, one can be constructed with a room expansion. Both are reasonable options, but they offer different benefits and drawbacks.
First Floor Room Additions
This expands the home's overall size or footprint and is frequently a room addition such as a guest room or an extra kitchen or bathroom. A new foundation must be installed to support the room expansion in most circumstances.
Pros of a First Floor Room Addition
Less Disturbance – you can live in your home while the extension is being built.
More Variation — more and diverse types of rooms can be introduced.
Less Complexity — a ground-level extension is more complicated than a second-floor expansion.
Cons of a First Floor Room Addition
Reduced Yard Area – Adding a room reduces yard space and may need uprooting trees and removing or downsizing gardens.
Potential Red Tape – As the size of the home grows, numerous zoning variance requirements and setback regulations must be followed, which can be time-consuming.
An Alternate First Floor Addition
If you don't want to deal with installing a new foundation, you could consider a Bump-out instead. This is a tiny room addition—more of a room extension—that hangs off the side of the home and is not supported by a foundation. If the current roof reaches far enough, it may not even require a roof; if it does not, the roof may need to be expanded to cover the bump-out. A bump-out is a safe, secure, and less expensive method of extending a space; it can be used to build a walk-in closet, extend a kitchen, and do other things.
Second Story Room Additions
A second story does not expand the footprint of the home and does not necessitate the installation of a new foundation. However, to support the new room's additional weight, the current foundation may need to be reinforced.
Pros of a Second Story Room Addition
No Loss Of Yard Space –

the extra room will have no effect on the size of the yard.

Less Red Tape –

You don't have to worry about zoning regulations or floor area limitations when you build up.
Cons of a Second Story Room Addition
Highly Disruptive —

you won't be able to live in the house while the second story is being built, so you'll have to find another somewhere to stay until it's finished.

Staircase Construction –

the installation of a staircase can significantly restrict the amount of downstairs living space.

Less Diversity Of Rooms —

second-story rooms are often limited to bedrooms or bathrooms.
THE STEPS OF BUILDING A ROOM ADDITION
Building a room addition is similar to building a house but on a smaller scale; therefore, similar planning is required.
Determine the dimensions and scale of the room addition.

Make A Budget

– remember to set aside 10% to 20% of your budget for an emergency fund to cover any unexpected expenses.

Meet with the contractor and architect to finalize the design and budget for the room addition.

Permit procurement and site preparation – the contractor will secure the necessary permits and prepare the construction site.

The foundation for the room extension is laid down at this time.

After the foundation has been cured, the walls of the room extension are erected, followed by the wall panels and roofing.

Utilities Are Extended

— the plumbing, electricity, and HVAC systems are linked to the new space.

Window installation is the addition of windows to the new structure's walls.

Insulation and drywall installation is critical since the new room must have the same level of insulation as the rest of the house.

Flooring and painting – at this point, the room extension begins to resemble the rest of the house.

Doors and trim work are the finishing touches of the room expansion; once they are finished, the new space is complete.
THE BENEFITS OF A ROOM ADDITION IN SAN DIEGO
A room addition can raise the value of a property and make it larger and better. More rooms normally equal more money on the real estate market. As a result, the money spent on the room expansion can be repaid by the house's increased value.
Of course, the main advantages of the expansion are more space and a fresh new room. Finally, having the space you require is a freeing experience that cannot be duplicated. Because there are so many different rooms or room expansions that can be built with an addiction, there is bound to be one ideal for you and your home. Contact Home Kitchen Bath Remodeling of San Diego today and help you make your room expansion
ROOM ADDITION IDEAS
Once you've decided to build an addition to your house, the following step is to pick what kind of addition you want. There are numerous room addition ideas to select from, some utilitarian, some more informal, others that allow you to enjoy the outside from the inside, all of which add value to the home.
One of the reasons home extensions have grown in popularity over the years is their variety in the selection of room addition; another is that they are a method to increase the square footage of the house without having to go through the cost and stress of buying and moving into a new home. Contact Home Kitchen Bath Remodeling of San Diego to discuss all conceivable room expansion ideas for your house and how to make those ideas a reality.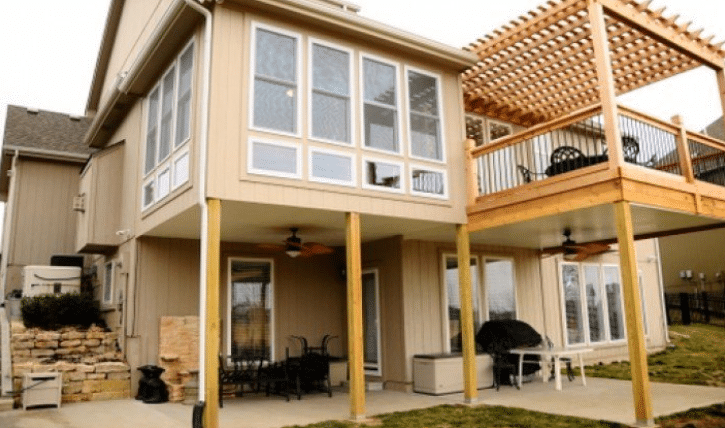 BUILDING OUT OR BUILDING UP
Before settling on a room addition concept, you must first decide whether you want to build out or build up. Building out entails adding a room to the house's first level, whereas building up entails adding a second-story room to the house. The following are the benefits and drawbacks of each method:
Building Out Pros:
Room Addition Diversity – there are numerous room types to pick from.
Construction Is Minimally Disruptive — you can live in your home while it is being built.
Building Out Cons:
Yard space has been reduced.

A new foundation must be poured.
Building Up Pros:
Increase the size of the house while keeping the yard the same size.

There are no property setback requirements.
Building Up Cons:
Residents will be forced to relocate throughout the construction phase, which will be extremely disruptive.

Bathrooms, bedrooms, and closets are second-story rooms' most common room kinds.
DIFFERENT TYPES OF ROOM ADDITIONS
Bump Out
A bump-out is more of a room extension than a whole new room. It is a cost-effective way to increase the size of a home without spending a lot of money. They extend from the house and can be as short as two feet or as long as ten to fifteen feet, which is significantly less than a full room addition. Because the bump-out is smaller, the expense of adding utilities like electrical, plumbing, and HVAC is lower or, in some circumstances, nonexistent.
A Green Room Addition
Regardless of the sort of room being added, green, environmentally friendly, and energy-efficient materials such as the following should be used:
Solar panels can save electricity while also lowering the home's overall carbon footprint.

The appropriate paint can help to reflect heat and lower the home's cooling bills.

Because engineered lumber is obtained from trees that grow back quickly, using it on any wooden portions of the room extension decreases the carbon footprint.
Additions With Unusual Shapes
Hexagonal or even octagonal-shaped living room expansions are becoming more popular since they provide a panoramic view of the outside. These rooms are popular among people who want to admire – or show off – their garden or lawn.
A Fireplace Friendly Addition
If the house does not already have a fireplace, a new living room addition is a wonderful way to add one. A fireplace creates a warm, pleasant atmosphere in the home and serves as a terrific gathering area for friends and family. The installation of a fireplace is not prohibitively expensive, albeit a chimney will be required.
Sunroom or Conservatory
These two types of room additions are extremely similar; a sunroom has glass windows on all sides that allow inhabitants to enjoy the warmth of the sun while getting a good view of their garden. A sunroom has a lot of visual appeal and is ideal for warmer climates like San Diego. Another appealing feature of a sunroom is its low cost in comparison to more costly room extensions.
A conservatory is similar to a sunroom, with the key distinction being that it typically has a glass roof in addition to glass walls and more premium facilities. As a result, a conservatory is often more expensive than a sunroom.
HOME KITCHEN BATH REMODELING BRINGS YOUR ROOM ADDITION IDEAS TO LIFE
There are numerous room extensions to choose from, and selecting the proper one might be difficult. Before choosing a room addition, consider the resale value the addition adds to the property, how long you want to dwell in the location, and the project's overall cost. When you've decided on the type of room addition you desire, contact Home Kitchen and Bath Remodeling of San Diego, and we'll make it a reality.
Room Additions in San Diego, CA By Home Kitchen Bath Remodeling
Families expand in size, and the truth is that your home will not immediately grow in size with them. This gives you a few possibilities. You can keep everyone crammed into extremely tight corners; however, this is unlikely to go down well. You could limit the size of your family based on the amount of space in your home, but we don't believe you should let your house govern your life in that way. You might also purchase a new home when your family reaches a particular size, but this is neither desirable nor financially practical for most people. That naturally leaves hiring expert contractors to assist you in better fitting your home to your demands.
Of course, adding rooms to a house is a large job, which is why you should leave such work to trained, experienced contractors. When you are ready to explore room additions in San Diego, CA, you should contact the experts at Home Kitchen Bath Remodeling of San Diego. We are your one-stop shop for the full room addition process, from planning and designing to general construction and finishing work. To get started, don't hesitate to get in touch with us right away.
Home Kitchen Bath Remodeling of San Diego specializes in room additions in San Diego, CA, and the surrounding areas.
Why Consider A Room Addition?
There are several reasons why you would want to consider adding a room to your home. As previously said, the most typical reason is to accommodate an expanding family. On the other hand, other homeowners may prefer to add a home office to their homes to increase productivity without limiting others' usage of the general living area. Another reason homeowners may want to add rooms to their houses is to simplify the process of just getting out of the house in the morning. Regardless of your reasons, our contractors will work closely with you to ensure your complete pleasure with the new room(s) in your house.
Why Hire Us to Complete Your Room Addition Services?
While adding a room or two to an existing home is not as difficult as building a new home from the ground up, it is still a significant effort. To ensure that your new room is properly integrated into your current space, that it does not jeopardize the structural integrity of the existing home or its foundation, and that it precisely meets your demands, every step of the construction process must be handled with care. We will design your new space to your specifications, ensuring that only high-quality materials are used and that your existing property is not in any way harmed. We have a fantastic team of dedicated professionals, and our in–house style virtually eliminates the possibility of misinterpretation.
Disability Room Additions
A key aim is to make one's home as accessible as possible to all occupants and visitors. We are the contractors to call if you need to accommodate disabled people in your house. We can create an easily accessible disability room addition to your home so that everyone in the house can fully enjoy it.
First Story Room Additions
Do you want to add a den to your home's first floor? Do you want to relocate the main bedroom downstairs, away from the children's rooms? Whatever your plans are for your first story room addition, you can rely on our staff to complete the work to the highest quality standards.
Second Story Room Additions
Adding a room to a house's second level may necessitate a little more elbow grease and know-how than adding a room to the first story. But it's no problem for a team as talented as ours. We'll do the job quickly, and you'll have peace of mind knowing that your second-story room addition is secure, solid, and long-lasting.
The Leader In San Diego Room Additions
We're a 5-Star, Award-Winning Room Addition Contractor Serving San Diego & Surrounding Areas
A room addition (also known as a bump-out addition) is a new structure erected onto an existing house to make more space. Home Kitchen Bath Remodeling of San Diego has extensive expertise in planning and building room extensions in San Diego. We take great satisfaction in being the leading room addition contractor, with an award-winning, 5-star rating.
Home extensions are widespread in the San Diego area. This is because they increase valuable living space as well as property equity. There are numerous reasons why homeowners decide to add a room to their homes. This includes everything from a second-story addition to a larger family room.
Common room expansions include: whether it is an addition to an existing room or the construction of a totally new one.
Second-story addition
Sunroom addition (or four seasons room)
Family room addition
En-suite bedroom addition
Living room addition
Kitchen addition
Great room addition
Dining room addition
Gym addition
Garage addition
Home Kitchen Bath Remodeling's team of room addition contractors and architects can take care of everything from start to finish for any of these home renovations.
We're also experts in the city of San Diego' permits, building codes, state law requirements, and ordinances. We handle the procedures for obtaining the necessary building and zoning permits, so you don't have to.
Room Additions vs. Accessory Dwelling Units
​In contrast to home expansions, an auxiliary dwelling unit (ADU, granny flat, or mother-in-law house) functions separately. It comes with its own kitchen, bathroom, bedroom, and living area. An ADU is a new construction that is attached or detached from the main house. It can be used as a guest house, a rental apartment, a separate living or working area, or a pool house.
Room Addition Services
Home Kitchen Bath Remodeling of San Diego has more than 20 years of experience in new construction and home remodeling around San Diego, California. We are a full-service room addition contractor who values high-quality craftsmanship and exceptional client service. Your satisfaction and comfort are our top priorities. In fact, in many circumstances, our clients are able to stay in their homes while development is taking place.
Home Kitchen Bath Remodeling of San Diego can handle all aspects of your home addition project, including design, architecture, and engineering. Our general contractors and designers, on the other hand, are pleased to collaborate with third parties who will be assisting you in the construction of an extension.
Open Floor Plans
Interior Design
Engineering
Architectural Planning
Permit Acquisition
Kitchen Construction
Bathroom Construction
Demolition
Electrical & Lighting
Roofing
Tilework
Plumbing
Flooring
Painting
Windows
Doors
Learn More About Our Design & Build Process
Recent Room Additions Projects
Here are some of our most recent home addition projects. Contact us today to discuss your requirements and receive a free home improvement estimate!
Why South Land Remodeling?
Learn More About Our Reputation