Bathroom Tile In San Diego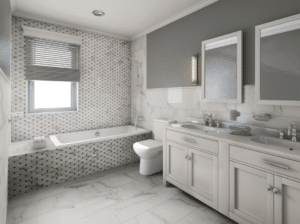 If you work with home Kitchen and Bath Remodeling of San Diego, an experienced and dependable tile contractor in San Diego, bathroom tile installation can be a breeze. 
If your bathroom has lost its luster owing to worn tiles, an outdated style, or shaky fixtures, bathroom remodeling is a must, and there's no better material for the job than tile. 
As the most dependable tile contractor in San Diego, we will create an exceptional end product within your time limit and budget. 
Because the wall covering in a bathroom is exposed to the same moisture and heat as the flooring, wallpaper is usually not a viable choice. Ceramic, stone, glass, or metal tile is by far the most popular and practical bathroom wall covering. If you decide to use tile for the walls, a wonderful impact can be achieved by utilizing the same color tile for the floor and walls, selecting tiles from the same color family, or pairing stone and metal or glass and ceramic. 
Tile For Bathroom Walls & Floors
Because tile does not buckle or warp from persistent wetness and is astonishingly easy to clean, it is by far the most popular and practical design technique for today's modern bathrooms and kitchens. There's a tile for every design imaginable, from the creation of handcrafted pottery to the natural beauty of the stone. You can also choose from leather tiles or recycled tiles if you want to be green in your home. For an appearance that is both unique and functional, consider combining stone and metal tiles or glass and ceramic. 
Ceramic And Porcelain Tiles
Ceramic tiles are used in the majority of bathrooms. Ceramic tile technology is the only way to create certain colors, textures, and styles. Glazed ceramic tile is the most common variety. This piece features a ceramic base with a gleaming finish on top. Subway tile is one of the most popular designs. This 3′′ x 6′′ or 4′′ x 8′′ tile is typically laid in a brick design. The main benefit of ceramic tile design is that it does not require any upkeep. It's nonporous, easy to clean, and available in a range of colors and styles. The top glaze may crack or chip as a result of wear and tear. Because the base is a different color than the glaze coat, this will leave a noticeable mark. 
Porcelain is composed of the same substance from top to bottom, making it extremely durable. The insignia is not apparent even if the top chips or scrapes. Popular are porcelain tiles that seem like actual stone. It's tough to distinguish porcelain from actual stone because tiles vary significantly in tint and texture. Furthermore, porcelain is quite reasonably priced. Porcelain is one of the most extensively utilized tiles today due to its durability, attractive appearance, and low cost. 
Glass Tiles
In recent years, this has become a popular fad. It was once prohibitively expensive, but it is now considerably more reasonable. Glass tile comes in a wide range of colors and unique blends and can be used as a border or to make magnificent mosaics. The beauty of glass tile is unrivaled because it reflects light, highlighting each tile. Glass tile installation necessitates a greater level of expertise as well as specialized supplies, but it's well worth it if you enjoy the look.
Jerusalem Stone Tiles
This is the most popular option among natural stone tiles. It's available in a range of grey, cream, and beige tones. Jerusalem As a border or accent, gold tile can be blended with other stone, metal, or glass tiles. In the New York market, Jerusalem Gold mosaics are the most popular natural stone tiles. Jerusalem stone is a highly tempting material, despite the fact that it is porous and quite pricey. 
Stone Tiles
Natural stone tiles are the epitome of sophistication and luxury. Limestone, marble, granite, travertine, and slate are just a few examples of materials that have a big impact on your entire design. Marble is a sophisticated and elegant tile for luxury bathrooms and kitchens because of its unique veins. Stone tiles come in a variety of colors and veins from different countries and quarries, making each stone tile you put in your home—whether Brazilian Granite or Italian Marble—unique. Marble, for example, is porous and thus prone to discoloration. It takes more upkeep than other stones, such as granite, due to its proclivity for staining and must be polished every few years or so. 
Metal Tiles
Metal tiles, whether coupled with ceramic, stone, or glass, give your bathroom or kitchen design a distinctive and attractive appeal. Because these tiles are usually more expensive than other types, they are employed as accent pieces in conjunction with less expensive tiles. 
Marble Tiles
Marble is unlike any other stone in terms of veins and texture. Marble's popularity, on the other hand, has dwindled dramatically over time. Marble has the disadvantage of being porous and prone to staining. It also takes more upkeep than any other tile, requiring polishing every few years. 
Recycled Leather Tiles
Recycled leather tiles provide a unique texture and a luxurious appearance. They're fine for kitchens but should be utilized in a half bath or bathroom without a tub or shower because they don't hold up well to dampness. They do, however, have a unique feel about them that will lend a layer of beauty and sophistication to any home. You may also feel certain that you've chosen a green product for your home because they're recycled.
Concrete Tiles
Concrete tile is virtually damage-proof, resistant to steam and moisture, and has an industrial aesthetic that is ideal for urban design. Concrete tiles exist in a limitless range of textures and shapes because Concrete is such a flexible material. Adding drama and contrast to your bathroom or kitchen by combining a smooth concrete floor tile with a textured concrete wall tile—or even a poured concrete countertop.
We can supply everything you need to organize and execute your San Diego bathroom tile installation job in a way that exceeds your expectations with as little stress and confusion as possible, from design assistance to the best materials to expert installation. 
Our knowledge extends beyond flooring to assisting our customers in selecting an incredible new tub, surround, and fittings (on top of the perfect tile floors to match.) To get started on your dream bathroom tile installation job, contact Home Kitchen Bath Remodeling of San Diego now.