Kitchen Faucets In San Diego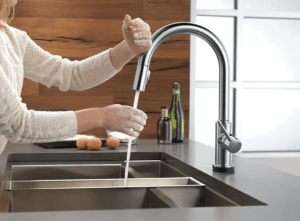 Of course, your kitchen faucet should match the style of your sink, but it also serves an important function in and of itself, so its design and finish should be carefully considered. Your choice of the faucet, whether it's a standard two-handle faucet or a pullout spray to make dishwashing easier, may make the perfect finishing touch or turn into a nightmare. (Imagine a delicate high arc two-handle faucet on a robust farmhouse sink.) 
Single Versus Double Handle Faucets
Single-handle faucets are simple and quick to use, but dual-handled faucets enable more exact temperature control. Which feature appeals to you more—ease of use or exact temperature control—is a personal choice, but it's one worth considering carefully before making a decision. 
Pullout Faucet: To Spray or Not To Spray
A pullout spray head faucet provides a targeted spray with a high degree of water pressure, making it simple to clean food, pots, pans, or even the sink itself.
Spout Height
Arched spouts that rise over the line of the sink's neighboring countertop are not only eye-catching, but they're also practical for cleaning and filling large pots. High arc faucets, on the other hand, have a restricted reach across the basin, so you might want to consider utilizing a pullout sprayer in conjunction with a high arc faucet to make some chores easier.