Shower Systems In San Diego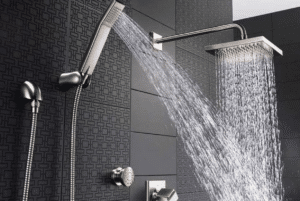 The simplest form of the shower to install is a shower module. These modules are available in a wide range of shapes, sizes, and colors. Some even have shelving and sitting built-in. For those seeking a more opulent addition, a bespoke shower made to fit your bathroom's specific space is a superb option. 
Shower systems can range from a simple overhead or handheld showerhead to a rainwater showerhead with volume control and diverter. Some even feature built-in iPod cradles so you can rest while listening to your favorite music. To save water, eco-conscious households may wish to consider a low-flow showerhead. Newer EnergyStar low-flow showerheads provide adequate pressure, so you won't feel deprived while helping to preserve the environment. 
When updating a shower system, building codes now demand the installation of a pressure-regulating valve. This device is in place for your safety. If there is a dip in pressure when you are showering, it lowers the pressure. When someone flushes the toilet, for example, the pressure drops, preventing a burst of hot water from burning you. Shower jet sprays are a popular choice in shower systems. There are a variety of jet systems to choose from, each with its own pricing range. 
Saunas
An in-home sauna, whether it's adjacent to the master bathroom or located elsewhere in the house, provides a level of luxury rarely seen outside of a high-end San Diego spa. Hardwood saunas can turn your bathroom into a relaxing refuge. 
Shower Jets
Shower jets, body sprays, and shower jet systems range from an overhead rainwater panel to a chest-high spout fixed on the wall to a handheld jet. A completely integrated luxurious shower system can be created by combining numerous jets.