Hardwood Flooring In San Diego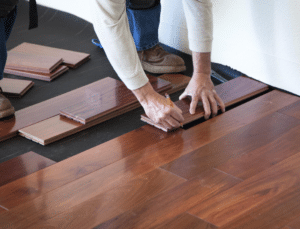 A hardwood floor exudes sumptuousness and richness like nothing else. Hardwood flooring's rich grains work well with any kind of decor, whether traditional or contemporary. Domestic woods such as oak, ash, birch, walnut, pecan, cherry, pine, and maple, as well as more exotic imported woods such as Brazilian cherry, teak, and mahogany, are available. After you've decided on your material, you may stain and finish the woods to match the rest of your home's decor. You can also choose from a variety of patterns, such as wide planks, narrow strips, or parquetry, which has squares made up of smaller pieces of wood that create a unique pattern. (Instead of replacing a complete plank or area of San Diego flooring, you can replace individual parquet squares when they are broken.) 
Hardwood floors last for many years are easy to clean, and do not retain dust or pollen, making them an excellent choice for allergy sufferers in San Diego. However, because wood flooring is readily scratched and dented, it is necessary to clean and brush waste from the floor's surface on a regular basis, as well as polish and seal it on occasion. Of course, if your floor does get a significant scratch, you can always sand it down and re-stain it for a completely new look! 
Wood flooring is a stylish choice for kitchens, living rooms, entryways, bedrooms, and family areas. Solid hardwood floors, on the other hand, can warp if exposed to too much moisture, making them unsuitable for damp basements or bathrooms. 
We can deliver any sort of San Diego flooring from any manufacturer because we are the leading supplier in the home improvement market. Please visit one of our Home Kitchen Bath Remodeling of San Diego showrooms or browse through our well-known hardwood flooring manufacturers on this site to select the appropriate floor for your house. If you don't see what you're looking for here or in our showrooms, just ask, and we'll find it for you.
Our Flooring Installation Services