Design & Remodeling of Kitchen Countertops in San Diego
Are you looking for stunning kitchen countertops? If that's the case, Home Kitchen Bath Remodeling of San Diego is your one-stop shop with thousands of alternatives to pick from. We have skilled and qualified kitchen remodeling advisors on hand to meet your aesthetic preferences and cooking functions. 
Home Kitchen Bath Remodeling of San Diego offers full kitchen remodeling services, whether you desire the powerful durability of engineered stone, the fashionable aesthetic of marble, a touch of ceramics, or a personalized concrete countertop for your modern kitchen.
Our kitchen remodeling professionals will make the entire process simple for you, from countertop design to product selection to installation.
Top 3 Useful Steps For Finding Right Countertops
Do Thorough Research –

Researching kitchen countertops can be hard because you want to make a unique choice. A skilled kitchen remodeling expert can assist you in narrowing down your alternatives.

Select the Right Choice – The materials you choose for your countertops reveal a lot about who you are and what you want. Simply put, if you're not prepared to manage sensitive fabrics, you shouldn't choose them. 
Installation –

Improper installation can make the countertop appear shabby, so choose a remodeling consultant who can put your kitchen design plan into action.
Making The Careful Selection Of Kitchen Countertops
Kitchen countertops bring beauty and elegance to one of your home's busiest areas while also meeting your cooking needs. This is why, in terms of both functionality and overall design, the type of countertop you choose for your kitchen is critical. 
Whether you want country charm or Soho chic, you must choose the proper material and color to complement the overall look of your kitchen. Furthermore, you merely need to think about your family's necessities. Stop by the Home Kitchen and Bath Remodeling of San Diego showroom in San Diego, CA, to look at samples and speak with a design expert about the best option for you, whether a bespoke concrete countertop or a Brazilian granite countertop. 
Natural Stone Countertops
Granite
A granite countertop exemplifies the highest level of sophistication and elegance. Aside from that, Granite countertops come in a wide range of colors, sourced from thousands of quarries in Italy, Brazil, Argentina, the United States of America, Sardinia, India, and other nations. These countertops withstand heat quite well while maintaining a durable and robust appearance. 
Though granite is expensive, the most award-winning slabs are imported from quarries all over the world, so you should make the decision to install a countertop very seriously. Granite countertops require regular sealing because they might absorb stains and/or crack if they are overworked. 
Combining a granite countertop with complementary or contrasting granite flooring can offer your home an unsurpassed look of luxury and elegance if you wish to undertake maintenance roughly once a year. 
Granite countertops are available in a wide range of designs and colors. Every quarry, in every country, produces extraordinary stone – each slab is one-of-a-kind. So it's well worth your time to go to one of the Home Kitchen Bath Remodeling of San Diego showrooms and look for samples.
Our extensive network can provide you with the ideal granite slab for your kitchen countertop or tabletop, whether you want a classic Italian blue pearl, Argentina's Gris Cordoba, or the Brazilian Café Bahia. 
While looking for kitchen countertops, please consider our granite samples; nevertheless, keep in mind that granite is a natural material. Every granite block comes from a certain place, and the color and veining will vary depending on the quarry. Please come to our showroom to see additional samples of the thousands of patterns and colors we have available and let one of our fully experienced renovation advisors assist you. 
Soapstone And Slate
Soapstone and slate are softer and less porous than granite. Both of them can scratch and crack at the edges, but they are easily sanded out. Some people believe that nicks and blemishes on their custom-made countertops give them character. Mineral oil applied to the counter surface will provide a warm glow for many years to come.
Limestone
Limestone is a natural stone countertop that may give your home in San Diego, CA, the ultimate level of warmth and character. Despite the fact that limestone is easily stained, it may be the most practical choice for active families. Some homeowners view the stains and nicks on limestone's matte appearance to be a statement of character, similar to how they do with soapstone and slate.
Marble
Marble countertops are ideal for achieving a warm, traditional aesthetic in your kitchen. They are more delicate than granite since they are readily scratched and soiled after regular use. If you decide to install them, be sure to take adequate care of them by keeping them away from hot cookware, wiping up spills promptly, and avoiding scratches.
Consider using a sealer and resealing the surface on a regular basis. Marble countertops, on the other hand, can create a refined statement for the discerning homeowner. On the other hand, some pastry chefs and bakers use a small piece of marble to roll out dough on their soapstone, slate, or granite worktops.
Engineered Stone Countertops
Do you require countertops that are far more useful than natural stones? Engineered stone worktops are a good choice since they are scratch, stain, heat, and acid-resistant. They are available in a wide range of hues, including granite. 
Engineered stone countertops are composed of colorful pebbles, polymers, and epoxy and are essentially a quartz-composite product. They are one of the most long-lasting countertops available. They are significantly easier to manage than genuine stone countertops since they do not require the annual sealing that natural stone countertops do. This is an important factor for today's busy homeowners.
Caesarstone
In the engineered stone countertop market, Caesarstone is a household name. Quartz particles make up 93 percent of this product. There are two types of quartz stone countertop surfacing materials available today: CaesarStone, the original quartz stone countertop surfacing material, and Concetto, which is manufactured from individually cut semi-precious stone. 
Caesarstone comes in 40 various colors, ranging from subdued neutrals like Baja, Eggshell, and Cinder to dramatic hues like Emerald, Ruby, and Pacific Reflections. Raven, Mulberry Mist, Amazon Green, Espresso, Sandalwood, Pebble, Bedrock, and Nougat are among the eight new colors available. If you truly want to receive a thorough picture of the alternatives accessible to you, go to the Home Kitchen Bath Remodeling of the San Diego showroom. 
Silestone
Silestone is a quartz-based engineered stone countertop. Scratch, stain, and scorch resistance make it an excellent choice for any kitchen. The color selections are endless, and the maintenance is simple. Blue, pink, brown, light grey, cream, beige, yellow, white, black, and green are some of the colors available.
Technistone
Technistone is made of quartz, making it a solid-surface countertop. It's resistant to normal wear and tear, making it a long-lasting and attractive solution for San Diego residents. 
To keep your countertop clean for a long time, use a dry cloth and a light soap and water solution. Despite the fact that Technistone makes kitchen countertops, flooring, and bathroom countertops, you should include their products in your home's design. 
Dupont Zodiac
Dupont Zodiac's smooth, nonporous surface, like that of other engineered stone countertops, is resistant to harsh stains and maintains its brilliance without the need for maintenance. Zodiac countertops last for many years because they don't have the imperfections of natural stone. 
Zodiac's smooth, nonporous surface, like that of other engineered stone worktops, resists harsh stains and retains brilliance (without care) for many years—without the imperfections of genuine stone.
Solid Surface Countertops
Solid surface countertops are made of polyester-resin or recyclable materials and are fully man-made. The scrapes, stains, and burns can be polished off despite their solid nature. The various surfaces may be molded or sliced to any shape, making them suitable for custom counters and kitchen islands. 
Solid surface countertops have molded sinks that are seamed directly to the counters with no gaps. You can get a watertight surface by combining a built-in covered backsplash with the countertop. 
These countertops are long-lasting, easy to maintain, and come in a wide range of textures and colors to suit any design aesthetic, whether it's for a big Bergen County suburban home or a sleek Chelsea loft. 
Dupont Corian
Dupont Corian is a well-known solid surface countertop brand available today, and it comes in over 130 stunning hues to match your kitchen decor. 
Avonite
Avonite Recycled, Metallics, Crystelles, Traditions, Foundations, and Glass Series product lines offer solid surface countertops in a variety of colors and textures that mimic metal, glass, concrete, and even stone.
Wood / Butcher Block Countertops
Wood or butcher block counters will provide warmth to your modern kitchen and balance off the fashionable stainless steel appliances. They're simple to clean, and they may be resealed and sanded as needed. You may also choose from a choice of wood treatments and hues to complement your kitchen. 
Select hardwoods such as maple, cherry, walnut, and oak. The biggest disadvantage of wood countertops is that they are susceptible to staining, knife cuts, and water damage. These scratches and stain marks, on the other hand, can be readily sanded away and require more upkeep than a solid surface countertop. 
Keep in mind, however, that nothing beats wood for classic elegance. A butcher block countertop exudes a level of refinement not found in other countertop materials such as granite or marble. 
Stainless Steel Countertops
Do you want to go for a sleek, modern look? The stainless steel countertops are a must-have. They are heat resistant, easy to clean, and relatively long-lasting. You can't chop veggies or bread on it as you do on a butcher board because it dents easily. Because stainless steel countertops must be custom fabricated, they can be rather expensive. For a clean and clear urban line, the majority of them come with integrally welded stainless steel sinks.
Concrete Countertops
Do you have a unique, uneven architectural shape in your kitchen? Concrete countertops can complement even the wackiest design dreams when it comes to kitchen remodeling. They are absolutely unique and can be rather costly. 
Concrete countertops are scratch and heat resistant, and modern coatings help to decrease cracking and porosity. They come in a range of textures and hues, each with a distinct industrial urban feel that will perfectly match even the most Zen-inspired Dumbo or Soho loft.
Glass Countertops
Do you want to add a touch of total high-end luxury to your space? Glass countertops set themselves apart from the rest. Colored, frosted, or clear glass can add a stylish touch to your home in San Diego, CA, by complementing concrete, wood, stone, or metal. Tempered glass is nonporous and does not stain, making it a practical and affordable option for any home.
Eco-Friendly / Green Countertops
IceStone
IceStone is a long-lasting kitchen countertop created from recycled concrete and glass. They come in over 27 different colors, so there's a color for any design. They are VOC-free and include a high percentage of recycled content, making them perfect for LEED-certified projects. 
Richlite
These paper-based fiber composites are manufactured from environmentally friendly resources sourced from North American certified managed forests. For homes looking for eco-friendly items, the durable surfaces provide a warm, inviting aesthetic. 
Laminate Countertops
For those who grew up in the 1970s, Laminate counters must be a famous name after the Formica craze. These reasonably cost plastic-coated synthetic countertops have a smooth, easy-to-clean surface. 
The laminate pieces are simple to cut to size and finish on the ends, and they will fit into almost any kitchen layout. However, laminates have significant drawbacks, such as the inability to repair scratches and cracks, the visibility of seams to the naked eye, and the high cost of front edges. Laminates are an excellent choice for those who wish to redecorate their space on a budget. They are inexpensive and come in a number of colors.
Copper Countertops
When polished, copper countertops have an orange-gold tint, but when oxidized, they take on a gorgeous monotone patina. Copper is malleable; therefore, its beauty comes at a cost. A dent in the surface can be caused by anything from a bag of potatoes to a fallen dish. 
If you choose these countertops, you should expect anything but a smooth surface. Some people embrace the denting and regard it as a symbol of their special kitchen countertops' character, while others want a cleaner, more uniform kitchen. 
Ceramic Tile Countertops
Ceramic tile comes in a wide range of styles. As a result, you may choose from elegant porcelain to hand-painted terra cotta to complement any kitchen decor. To create a personalized and custom-tailored design on countertops and backsplashes, consider combining different colored and textured tiles in remarkable patterns. 
Choose from economical factory original tiles or imported handmade tiles for a unique style to suit any client's needs and budget. Ceramic countertops are heat resistant, but they produce uneven surfaces that are readily chipped or cracked. As a result, you may need to replace individual tiles on occasion. Also, make sure that the grout lines are not readily stained, as this will necessitate a lot of care and/or re-application. 
So, what do you have to lose? For your kitchen remodeling project, choose from a wide choice of kitchen countertops and let Home Kitchen and Bath Remodeling of San Diego handle it with absolute excellence and attention to every detail!
San Diego Countertops
Home Kitchen and Bath Remodeling of San Diego will assist you in constructing, picking up or delivering, and installing new San Diego countertops if you are remodeling your kitchen or bathroom. The right countertops may completely change the look of your kitchen or bathroom. Natural and synthetic materials are used to create countertops. They are available in a variety of colors and patterns. Let's take a look at your San Diego countertop selections. 
Quartz Countertops
Quartz is the ideal material for countertops since it is extremely durable. Because it is nonporous, there is no need to seal it, and stains will not penetrate. It's heat, moisture, bacterium, and stain-resistant. Quartz is available in a variety of colors, including ivory, cream, taupe, and black, with or without patterns. It is one of the most expensive materials to use for countertops, and the hue may fade when exposed to UV radiation.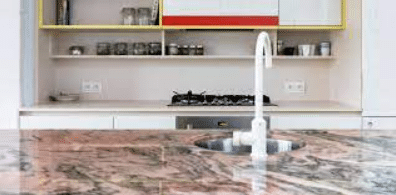 Granite Countertops
Granite is one of the most often used countertop materials. It is heat, scratch, and cut resistant. Granite comes in a variety of hues and veining patterns. Because granite is porous, it will need to be sealed on a regular basis. Another problem is that granite is prone to chipping and might crack when two slabs meet.
Butcher Block Countertops
These are manufactured from wood slabs that have been chopped, sculpted, sanded, and finished before being turned into a countertop. They're lovely, and they give the kitchen a timeless feel. 
Advantages: Because wood is naturally porous, you will need to seal the countertop on a regular basis. With time, the wood will develop cuts, stains, and flaws. It is possible to re-sand wood countertops to give them a new look, but for the most part, you should appreciate the "rustic" beauty of the old woodblock countertop. 
For fabrication, pick-up, delivery, and installation of San Diego countertops, call Home Kitchen and Bath Remodeling of San Diego at (619) 489-9819.