Natural Stone Flooring In San Diego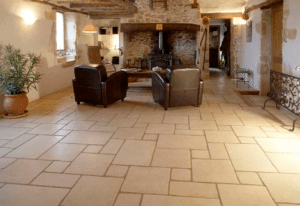 For the discerning homeowner, natural stone flooring offers unrivaled durability and sophistication. Because of the intrinsic hardness of quarried stone, even the most active family is unlikely to scratch it, ensuring that your exquisite San Diego flooring will survive for many years. Stone San Diego flooring options include travertine, slate, marble, granite, and sandstone, but because the stone is a natural material, each quarry will offer unique slabs with different veining and shadings. To further customize the genuinely unique and sumptuous look of actual stone, you can pick between a rough or smooth surface. 
We can deliver any sort of stone flooring from any manufacturer because we are the leading supplier in the home restoration market. Please visit one of our Home Kitchen Bath Remodeling of San Diego showrooms or browse through our well-known stone San Diego flooring manufacturers on this site to select the appropriate floor for your house. If you don't see what you're looking for here or in our showrooms, just ask, and we'll find it for you.
Our Flooring Installation Services