GARAGE CONVERSION SAN DIEGO
The cost of living is among the highest in the country, making it difficult to find cheap housing. As a result, the California Senate passed Senate Bill-1069, which relaxes the restrictions on adding ADUs (additional dwelling units) to existing properties. Homeowners may now build additions to their homes more easily than ever before.
A garage conversion is one of the best sorts of ADU; as the name implies, this simply entails transforming the garage into a functioning living space. This is one of the greatest forms of ADU because it doesn't require a new foundation, additional walls, or any of the other requirements that come with connected or detached ADUs.
It takes some effort to transform a room designed for vehicles into a space designed for people, but the homeowner will appreciate the garage conversion in the end. Renters looking for economical accommodation will appreciate it even more. Anyone interested in converting their garage into a living space—or any other kind of space—should call Home Kitchen Bath Remodeling of San Diego for expert guidance and services on how to turn their car's home into a pleasant, inviting home for a lucky resident.
WHY CHOOSE A GARAGE CONVERSION?
The following are the most compelling reasons to convert your garage into additional living space:
Extra Income Stream — You may quickly recoup the cost of the conversion by renting out the room to desperate renters looking for a cheap place to live. The new room will begin earning money for the homeowner after paying the conversion costs.
Increased Property Value – A home with additional living space is always valuable because it may be rented out or utilized as an extra room for a family member. The versatility and functionality of the product add to its attractiveness to potential purchasers.
Ease Of Conversion — Of all the numerous forms of ADUs, a garage conversion is the most straightforward and practical. The rationale for this is that the room already exists and does not need to be rebuilt or expanded. Interior necessities such as electricity, windows, and plumbing must be installed, and the garage door must be converted to a regular door, but this is still less labor than constructing a separate or attached ADU.
Are There Any Disadvantages To A Garage Conversion?
First and foremost, there is the question of where to park the automobile and any other items stored in the garage, assuming it is still in use. If there is enough room on the land, an additional garage can be created; if there isn't, a small shed can be erected to keep any extraneous goods from the garage. A carport, which is essentially a simple canopy that covers part of the driveway, can be created in the car(s) case. It's a straightforward, cost-effective solution that can be erected fast and safely while protecting the car from the majority of the elements.
A garage conversion could also wreak havoc on traffic flow throughout the house. If the garage is being transformed into a living space, getting used to entering it through the kitchen or any other room connected to the garage may take some time. Even if additional living space adds value to a property, the absence of a garage may detract from its value for certain homeowners, particularly if there is no other location to park automobiles. This is something to consider if the homeowner intends to sell their home in the future.
WHERE TO START WITH A GARAGE CONVERSION IN SAN DIEGO
Permits And Red Tape — While Senate Bill-1069 makes it easier to convert a garage, permits are still required to begin the project. Additionally, the local homeowner's organization may have its own set of rules and regulations that must be observed when making alterations to the home.
Budget — Just like any other home improvement job, you'll need to set aside money for it. The garage can be turned into a living area, a home office, a home gym, or a hangout room—like a man-cave—all of which have separate budget and design issues. As with any home improvement project, an emergency fund of 10% to 20% of the total budget should be set aside in case the homeowner encounters any unanticipated situations.
Window Positioning – Garages are often dark spaces, and while additional lighting will be required, natural light should also be provided by the placement of windows. One of the issues of the garage conversion is where to place these windows, as they may need to be used for ventilation as well.
Insulation –  is required regardless of how the newly converted garage will be used. Otherwise, it will become a distasteful place to spend any amount of time. Building codes will almost certainly have to be observed, particularly in regards to the R-value, which measures the insulation's ability to tolerate heat loss. The room's enclosing elements must be insulated, such as the walls, roof, and floor.
Floors – Tile is a fantastic alternative for floors, especially if the homeowner is performing the work themselves; however, wood flooring is more demanding and may require professional installation. The concrete slab of the garage floor should be treated before the flooring is installed to prevent moisture from entering through tiny fractures on its surface.
Walls – The type of material used on the exterior walls determines how well the interior walls are insulated. In most cases, fiberglass insulation is employed; however, spray-foam insulation is sometimes used instead.
Ceiling – Ceiling insulation follows the same steps as wall insulation. It is, nevertheless, vital to check for any small gaps that could allow moisture to enter the space.
Plumbing & Electricity – New outlets will need to be added or relocated if the new room is used with standard appliances and electronic equipment. Plumbing lines will need to be installed if the garage is being turned into a dwelling space. The expense of the conversion rises as more plumbing and electricity are added, but the room—and the house—becomes more valuable.
CONSIDER A GARAGE CONVERSION FOR YOUR SAN DIEGO HOME
Because obtaining a permit for a garage conversion is now easier than ever, now is the best time to take advantage of the opportunity—especially if the garage is transformed into a living area. Because a garage is the simplest of all the different types of ADUs, it is one of the finest methods to increase the value of a home without taking up any additional room.
Please contact Home Kitchen Bath Remodeling of San Diego if you are interested in turning your garage into a new room. We'll assist you in taking advantage of the California government's opportunity for residents who are ready and eager to expand their living space.
GARAGE CONVERSION IDEAS
Many homeowners are wondering, "What do I convert my garage into now that California has made garage conversions easier than ever by eliminating a lot of the bureaucratic complexity and red tape?" Now that California has made garage conversions easier than ever by eliminating a lot of the bureaucratic complexity and red tape, the question for many homeowners is, "What do I convert my garage into?" Anything you desire, as long as it fits into a single room, is the answer.
One of the reasons the California government relaxed the limits on garage conversions was in the hopes of finding a solution to the state's housing issue. The garage might be turned into a guest house that the owner could rent out to persons in need of a place to live. There are many different forms of garage conversions, and Home Kitchen Bath Remodeling of San Diego can assist with any style of space that homeowners may think of.
SOME OF THE DIFFERENT KINDS OF GARAGE CONVERSIONS
A garage conversion can be a wonderful experience, but it can also be highly labor-consuming, so it's better to leave it to the pros. The amount of time and money it takes to convert a space depends on what it will be used for. However, because extra rooms are always desirable, the time and money invested can help raise the home's value. Simply make sure there is a spot on the property to park a vehicle, as this is a prerequisite for a garage conversion.
Guest Home Garage Conversion
As previously said, a guest house or extra room is one of the most typical garage conversions. This can be rented out, utilized as a guest house for guests and family, or both. However, because utilities like water, electricity, and HVAC must be routed into the new space, this is one of the more difficult, expensive, and time-consuming conversions.
Pros:
If you rent out an extra room, you can make money.

An extra room increases the value of a house.

When friends and/or family drop by unexpectedly, it might be used as a place to stay.
Cons:
Converting and outfitting a garage can be costly.

Adding power, plumbing, and air conditioning might raise your utility bill.
Home Office Garage Conversion
A home office is an excellent garage conversion concept if you want a more personal, private, and productive place. A writer's retreat, an art studio, or a standard office can all be used as the new work location. It's ideal for freelancers, remote staff, and small business owners. Because an office requires fewer utilities than a guest house, the conversion is both cheaper and faster. It's likely that the homeowner already has the materials needed for the conversion; all that's left is for them to be relocated into the new location.
Pros:
Fewer utilities are required, which means less time and money is spent.

It is possible to adapt it to any type of workplace.

The majority of the furnishings and accessories required are likely already in the home.
Cons:
Without any face-to-face human interaction, it might become lonely.

At home, it's much easier to become distracted.
A Family Playroom
This is an excellent option for families with young children because it provides a safe, supervised environment in which they can play. The size of the garage limits the types of fun and games that may be added to the area, but there is still a lot that can be done with this type of renovation. Climbing ropes, rock walls, and other activities can create a fun place for the kids while keeping them under your watchful eye.
Pros:
Children's play area that is both safe and accessible

Because the children are always under the supervision of the homeowner, safety issues are minimized.

Conversion is quite inexpensive because fewer utilities are required.
Cons:
It isn't a space that can be used in a variety of ways.

It will need to be turned into something different after the children have grown up.
Home Gym
Everyone understands the significance of being in shape, but not everyone has the time to do so, or, if they do, they are hesitant to pay for a costly gym membership. Because most two-car garages are large enough to store a range of gym equipment, a home gym overcomes both of these issues.
You don't need expensive or complicated equipment to get started; you can start with simple weights and punching bags and work your way up to machines like treadmills and stair climbers. Because a gym conversion requires only a few utilities, it is less expensive than conventional conversions. The money saved can then be used to purchase the gym's necessary equipment.
Pros:
Conversion is simple and affordable.

It's a great method to keep in shape.

It is easier to work out on a regular basis when you have access to a gym.
Cons:
You might not have all of the necessary equipment right away.

Getting that equipment could be expensive.
Home Cinema
You can watch movies without worrying about parking or pricey concessions with your own home cinema. Because fewer utilities are required, and furnishings are not required, this conversion is not very costly. All that is required are a few nice couches and chairs. You can even bring your own food without having to hide it from the ushers. The home cinema conversion is adaptable because it can also be used to watch television or play video games, which are not possible in a traditional movie theater.
Pros:
Conversion is straightforward.

There's no need to spend money on pricey munchies.

It has the potential to be a dynamic, multi-purpose room.
Cons:
A huge TV or projection system, as well as powerful audio equipment, may be required.

To make it work, you'll need a vast movie collection.
CHOOSE THE GARAGE CONVERSION THAT IS RIGHT FOR YOU
It should not be difficult to discover a garage conversion that fits your lifestyle among the many options available. There is a style of a garage conversion for everyone, whether you have a large family, need a space to focus, or require a place to work out regularly. Contact Home Kitchen Bath Remodeling of San Diego once you've decided on the type of conversion you want, and we'll make it happen.
Best Room Addition & ADU Garage Conversion In San Diego, CA
Convert Your Garage Or Add A New Room – Get Your FREE Quote On Your Room Addition Or ADU Garage Conversion In San Diego, CA – Financing Available!
When you require additional living space in your San Diego home, Home Kitchen Bath Remodeling can assist you in converting your unused garage into a whole new living space. We can help you turn your garage into anything you want, from living rooms to in-law suites to man caves and she sheds.
There's no better choice for all of your San Diego Garage Conversion needs than Home Kitchen Bath Remodeling, with competitive prices, high-quality goods, and specialists who treat you like family!
A San Diego Garage Conversion rental property may bring in an average of $40K in rent each year, meaning that a $50K Garage Conversion can pay for itself in as little as two years, leaving you with over $40K in profits each year. Does it make sense now?
Call us at (619) 489-9819 to schedule your FREE estimate.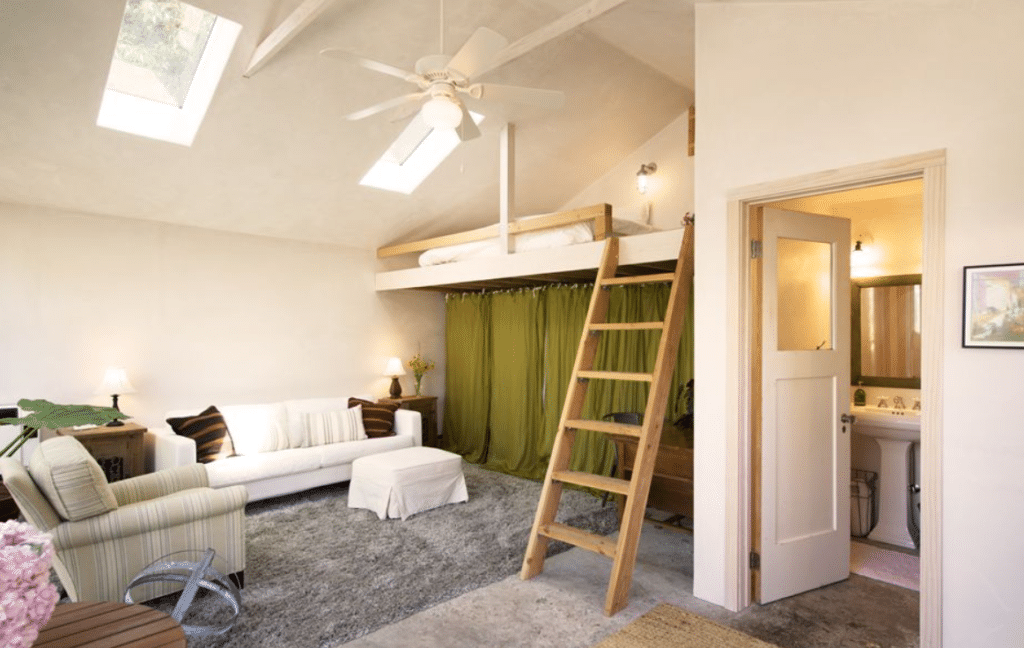 San Diego Conversion – ADU & Room Addition Experts!
When it comes to adding square footage and comfort to your house, converting your garage is the greatest place to start. In San Diego, most single-car garages are large enough to be converted into an additional bedroom and bathroom. A two-car garage will provide you with the same amount of room as well as lots of storage. We know the local building codes in San Diego and can help you make the best decisions for your garage conversion designs. When it comes to maximizing your current living space to fit anything from an extra bedroom or family room to a tiny guest house or efficiency flat, our familiarity with a wide variety of construction types available in San Diego comes in handy.
ADU GARAGE CONVERSION IN SAN DIEGO
We cater to the needs of homeowners in San Diego who want to extend their homes to meet their needs. Home Kitchen Bath Remodeling of San Diego is here to help you through the process and convert your garage conversion plans into reality, whether you require garage conversion or ADU in San Diego due to a growing family or extra gathering space. From assisting you with designing your new additional living space to its completion, we work closely with homeowners to meet their garage conversion demands. Our construction team, including licensed contractors and home architects, is ready to put your garage conversion plans into action.
ADD VALUE TO YOUR SAN DIEGO RESIDENTIAL PROPERTY
In San Diego, a normal single-vehicle garage can contain an additional bedroom as well as a full or half bathroom. A well-built garage conversion not only adds livable space to your house but may also raise the value of your home and perhaps provide additional money as a small rental unit!
COMMON REASONS FOR GARAGE CONVERSIONS
In-Law Quarters
Efficiency Apartment
Caring For Elderly Family
Extra Bedroom & Full or Half Bathroom
Family Room or Playroom
Home Office or Study
Kitchen Utility Room Expansion
Home Cinema / Entertainment
Increase Your Home's Value!
Some of our ADU & Garage Conversion Projects across San Diego, CA
Earn over $40K a year on Passive Income alone from your ADU or Garage Conversion – Get a FREE Quote
San Diego ADU & Garage Conversion – A Great Option For You If:
YOU ARE ABLE TO OBTAIN THE NECESSARY PERMITS:
Because you'll be changing the use of the garage area, you'll almost certainly require a permit before you start working. Home Kitchen Bath Remodeling of San Diego can assist you in obtaining the required permissions and ensuring that your Garage Conversion is executed professionally and lawfully.
THE GARAGE DOOR ITSELF IS EASILY REPLACEABLE FOR YOUR INTENDED SPACE:
Keep in mind that your garage only has three walls right now. First, examine whether broad patio doors or an additional entrance to your room would be appropriate for this fourth wall. If not, we'll be able to work with you to come up with ways to make a wall that blends in with the rest of your home's exterior.
YOUR BUDGET INCLUDES HEATING AND COOLING COSTS:
Finding out if your current HVAC system can sustain another room is the greatest way to keep these expenditures low. If that's the case, we can easily add ventilation to the garage. If this is not the case, the system will need to be updated, or a separate system would need to be installed to offer heating and cooling in the garage.
PLUMBING IS ACCESSIBLE (IF REQUIRED FOR THE NEW SPACE):
If you want to add a bathroom or kitchen to your garage conversion (for example, if you want to utilize the area as an in-law suite or a separate apartment), the first thing we'll look at is your current plumbing system to see how much work will be required.
PARKING AND STORAGE SPACE ARE AVAILABLE OUTSIDE OF THE GARAGE SPACE:
Converting your garage into another living space entails permanently removing the parking and storage space that was previously there. Take a quick inventory of everything currently housed in your garage before deciding to convert it, and make sure there is enough room elsewhere for all of that stuff.
Garage Conversion In San Diego
5-Star & Award-Winning Garage Conversion Services For San Diego
A garage conversion is a very common home renovation project in San Diego. Your home gets square footage, living space, and equity by turning your garage into an ADU or supplementary space.
We can turn your standalone or attached garage into more finished space at Home Kitchen Bath Remodeling of San Diego. A bedroom, living room, bathroom, gym, office, and other areas may be included. We can design and construct the complete project as a full-service garage conversion contractor.
We'll provide a free price and garage inspection at the start of the procedure. The ADU garage conversion will be designed and engineered to meet your demands and design preferences.
A Garage Conversion Vs An ADU
Garage conversion and an ADU have a lot of similarities (accessory dwelling unit). Both increase the amount of completed square footage in a home. Most garage conversions, however, are now classified as ADUs. According to zoning and city restrictions, a standard garage conversion cannot incorporate a kitchen. An ADU, on the other hand, functions as its own little home, complete with a kitchen, bathroom, and living area. Typically, garage conversions are utilized to turn an existing garage into an extra space such as an office, gym, playroom, or guest room (without a kitchen). However, different cities and counties have their own set of rules, which we can assist you in negotiating. If you have any questions, please contact us right away!
If you rent out either structure as a holiday or long-term housing, you can not only acquire extra living space but also perhaps earn some extra money.
San Diego Garage Conversion Services
Home Kitchen Bath Remodeling of San Diego has been remodeling homes in San Diego for over 20 years. We're a full-service garage conversion company that places equal emphasis on superior craftsmanship and award-winning customer service. We are proud of our 5-star rating on all review sites, as your satisfaction and comfort are our top priorities.
Home Kitchen Bath Remodeling of San Diego can handle every aspect of your garage conversion in San Diego. We're pleased to work with an independent architect or interior designer you've hired, even though our experience encompasses design, architecture, and engineering.
Architectural Planning
Open Floor Plans
Design & Construction
Engineering
Permit Acquisition
Kitchen Construction
Bathroom Construction
Demolition
Structural Improvements
Electrical & Lighting
Title 24 Energy Efficiency
HVAC
Roofing
Tilework
Plumbing
Flooring
Painting
Windows
Doors
Solar Panels
Learn More About Our Construction Process
View Our Full Project Gallery
Why South Land Remodeling?
Learn More About Our Reputation