Home Kitchen and Bath Remodeling Of San Diego Is A Low-Cost Service In San Diego.
Call us, the skilled pool tile installers in San Diego, to add style, design, and utility to your pool. We specialize in making your pool seem attractive and inviting as your best provider of pool tile installation. Tiles are smooth and cool to the touch, giving any home a decorative touch of luxury.
THE ELEGANCE OF POOL TILE INSTALLATION TORRANCE SAN DIEGO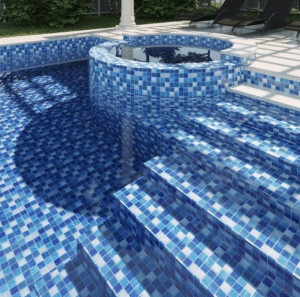 The use of tile to line your swimming pool gives it a high-end appearance. Custom pool tiling is a fantastic addition to any property because of its spectacular beauty and longevity. It helps you boost your home's market value while reducing the amount of maintenance you have to do. Our pool tiling services include a wide range of design and aesthetic options, including:
CREATE UNIQUE DESIGNS WITH SWIMMING POOL TILING
Swimming pool tiling is popular because of its long-lasting durability, but it also has a beautiful aesthetic appeal. You can tile the entire pool as the primary interior finish, or you can go with the classic choice of bordering the waterline. As a professional, we can use the tile to create focal points on your steps, benches, or lounging places. We have the ability to make your design visions a reality, no matter what you want.
REVAMP YOUR POOL WITH POOL RE-TILING SERVICE IN SAN DIEGO, CA
Look no farther than Home Kitchen and Bath Remodeling of San Diego for pool re-tiling services if your tile is beginning to look worn or if you just want a new design. When it comes to installing new furniture, you should only entrust the job to a qualified and skilled professional. We position each tile with precision to achieve equal grout lines and a long-lasting finish. 
TRUST THE HIGHLY TRAINED POOL TILING CONTRACTOR
While it may appear that installing tile is a simple process, it actually necessitates a high level of technical ability and precision. Rely on Home Kitchen Bath Remodeling of San Diego, the top pool tiling contractor in San Diego, to perform your pool tile installation quickly and accurately for a long-lasting, beautiful result.