Remodeling And Renovation Services In San Diego
Kitchens have evolved into the heart of the modern house, serving as a gathering place for family and friends. More than any other area in the house, the kitchen appears to be where we spend most of our time. A well-designed kitchen and dining space might motivate you to spend more time preparing meals and entertaining friends and family, allowing you to show off your fine culinary abilities.
Do you want to redesign your kitchen? You've arrived at the right location. Home Kitchen and Bath Remodeling of San Diego now has a better option for you to improve your kitchen renovation. Kitchen remodeling is made much easier and more enjoyable for you with our 3-step, full-service remodeling strategy.
Painting
An interior painting project is the simplest and most cost-effective approach to enhance your home. Interior painting allows you to transform a single room or your entire home, and it can significantly raise the value of your home, especially if your current paint is scuffed or chipped and the colors are alternately bright or drab. Furthermore, if you're selling your house, a fresh coat of paint in bright, neutral tones makes it simpler for potential buyers to see the room as their own, improving the likelihood of a quick sale.
Learn more
Interior Design
It all comes down to good design. A project can only be done successfully if it is well-designed and planned. Use our designers, remodeling consultants, or bring your own — good planning is the key to a successful renovation. Our top designers have been with us for over ten years and would be delighted to assist you in making the best decisions for your budget and taste.
Learn more
Going Green
New energy-saving techniques, appliances, and materials, as well as the capacity to recycle pre-existing components and materials, have had a significant impact on how we think about home improvement. To help save the world, we can now employ environmentally friendly materials such as bamboo, recycled Glass, recovered wood, and more. Home Kitchen and Bath Remodeling of San Diego will be pleased to demonstrate how it's done.
Learn more
SERVICES
CUSTOM BATHROOM & KITCHEN REMODELING IN THE SAN DIEGO, CA AREA
The kitchen and bathroom are two rooms in your house where you will almost certainly spend a lot of time. With that in mind, shouldn't they be the spaces in which you feel most at ease? Allow the experts at Home Kitchen and Bath Remodeling of San Diego to create a bespoke kitchen and bathroom that is tailored to your preferences, space, and budget. Our bathroom and kitchen remodeling services can provide you with the space that you've always desired. We can give you a redesign that you will enjoy, whether you are searching for custom cabinets for your kitchen or vanities for your bathroom.
We Offer:
Bathroom Remodeling
Kitchen Remodeling
Custom Craft Cabinetry Creation
Custom Bathrooms
Custom Made Dressers
Living Room Build-Ins
Dining Room Build-Ins
& Much More!
CONTACT US OR VISIT OUR KITCHEN SHOWROOM IN SAN DIEGO, CA TO START YOUR PROJECT!
Our team is here to assist you, whether you are just starting to think about a bathroom or kitchen remodel or are eager to get started this week. We can go over the entire process and what you're thinking in order to make your vision a reality. We recognize that undertaking a remodeling project is a major decision, and we want to provide you with as much information as possible to assist you in making that decision. If you're thinking of remodeling a room in your house and don't see what you're searching for on the list above, give us a call at (619) 489-9819, and we'll let you know what we can do.
IF YOU ARE THINKING ABOUT BEGINNING A HOME REMODELING PROJECT, CONTACT US TODAY OR VISIT OUR SAN DIEGO KITCHEN SHOWROOM!
HOME REMODELING IN SAN DIEGO
If you're like most homeowners, you probably have a few ideas about how to improve your home. If you're like most homeowners, you're undoubtedly wondering how you're going to make those plans a reality. If you're like most homeowners, Home Kitchen and Bath Remodeling of San Diego can turn your ideal room into a reality. We can handle any home improvement project you have in mind.
We can generate the new from the old and give your home the fresh makeover it deserves, from bathroom renovation to kitchen remodeling to garage conversions. We are a full-service remodeling firm that will assist you with every project area, from planning and design to actual construction. Finally, your house redesign will not only improve the appearance of your property but will also increase its worth.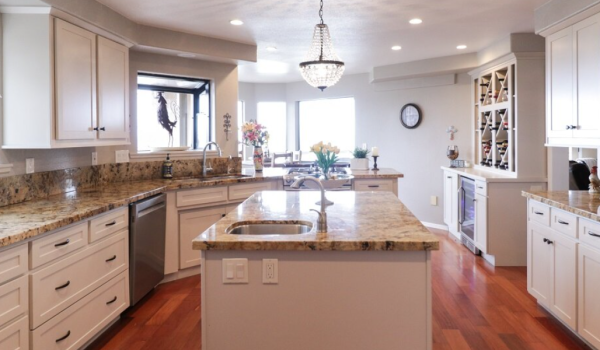 HOME REMODELING 
Know What You Want
Before beginning the remodeling job, be sure you understand its scope and purpose. You should know how big the project will be and what it will achieve; will it improve your living, or will it increase the value of your home for future resale? The size and use of the room will assist define the remodel's budget and design approach.
Prepare a Plan
This is best done with the guidance of a designer, but with the use of computer programs, and you can do it yourself. Whether you're performing a modest refurbishment or a major remodel, a good plan of action can keep you on track. We will provide all necessary support, but the budget is ultimately your responsibility, so plan carefully and wisely.
Get The Details Right
When working with a seasoned designer, they will advise you to begin shopping for the various aspects you want to include in the redesigned room even before the final blueprints are finalized. This is because the designer wants to get a sense of the finished room's look.
These elements can be the molding or window frames on minor projects; on larger projects, and you may need to start selecting kitchen countertops, floor tiles, appliances, and more. These purchases not only help the designer get a better sense of what you want, but they also offer you an idea of how much the project will cost.
Do Not Be Afraid To Scale Back If Necessary
Even the best-laid plans can go over budget; if you can't absorb the additional costs required to finish the project, don't be afraid to scale it back before things get out of hand. Rather than canceling the redesign, you can buy more affordable replicas of the elements you were planning to use in the first place. This could mean less expensive countertops, tiles, and so on; if the budget becomes too high, simply cut back the project rather than ditching it entirely.
Avoid Any Last Minute Changes
The four most expensive words in the English language, according to the construction industry—and perhaps most industries—are "while you're at it…" This is because attempting to make adjustments once the project is well along can result in a slew of costly issues. Last-minute modifications can take up a significant portion of the budget and lead to cost overruns.
It's fine to make minor adjustments if something unexpected occurs that necessitates a change of plans. On the other hand, large, unnecessary changes should be avoided at all costs to keep the budget under control.
THE HOME REMODELING JOBS WE DO
Kitchen and bathroom remodeling are two of the most popular home improvement projects. It's easy to see why; they're two of the most often used rooms in the house, and they're places that everyone wants to be both attractive and functional.
We have years of expertise completing kitchen and bathroom remodels that meet or exceed the homeowner's expectations. Home Kitchen and Bath Remodeling of San Diego will finish your remodel to the greatest of standards, whether it is for your own personal delight or to ready the house for selling.
Kitchen Remodeling
Kitchen renovations are popular projects because a new kitchen can drastically improve the look and feel of a home. These projects can range from buying new appliances or cabinets to tearing down walls and completely rearranging the kitchen. A new kitchen can dramatically increase the market value of a home, raising its overall worth.
A kitchen redesign in San Diego costs roughly $2000 to $4000 more than in the rest of the country. The good news is that in San Diego, a kitchen makeover can improve the market value of a home by 96 percent to 102 percent of the building costs, compared to 80 percent to 85 percent in the rest of the country.
Bathroom Remodeling
Homeowners are rarely pleased with their standard bathrooms, and they frequently want to renovate them to make them appear better, operate better, and save water and energy. Although being one of the smaller rooms in the house, a bathroom makeover can be one of the most expensive since it is one of the most involved.
This is due to the plumbing and electrical work that must be done on occasion. Furthermore, modern homeowners prefer to have greater space in their bathrooms, which necessitates extensive building work. A bathroom redesign in San Diego can cost anywhere from $14,500 to $43,000, but it can recoup almost 100% of the home's retail value costs.
Let Home Kitchen Bath Remodeling Of San Diego Take Care Of Your Home Renovation
Home remodeling expenditures in San Diego, Home Kitchen, and Bath Remodeling of San Diego are among the highest in the country. Therefore, you want it done well when you remodel your home. Home Kitchen and Bath Remodeling of San Diego have a long history of doing room remodels that meet or exceed our clients' expectations. When you're ready to renovate any room in your house, give us a call, and we'll give you the room of your dreams.
RELATED TOPICS:
Living Room Remodeling
Ceiling Design
Kids Playroom
Custom Wine Cellars
Basement Remodeling
Skylight Installers
Home Gym
Home Work Office
OUR HOME REMODELING PROJECTS
Home Remodeling in Ventura
Home Remodeling Contractors in Oak Park
Home Remodeling in West Hollywood
Home Remodeling Project in San Diego
Revitalize Your Space With Home Remodeling in San Diego
Bring Your Home to Life with Home Remodeling in San Diego
Home Remodeling Contractor in San Diego
Home Remodeling Project in San Diego
Home Remodeling in Woodley Ave
OTHER SERVICES
Bathroom Remodel
Roofing
Home Builder
Green Windows & Doors
Kitchen Remodel
Tex-Cote Paint
Garage Conversion
Room Additions
A newly rebuilt and refurbished bathroom may give you a sense of warmth and happiness that well outweighs the stress and turmoil it took to get there. We can deliver that feeling of warmth and fulfillment without the worry at Home Kitchen and Bath Remodeling of San Diego. We'll collaborate with you to create the bathroom of your dreams, and we'll make sure the trip is as enjoyable as the outcome.
BATHROOM REMODEL SAN DIEGO: COSTS
Expect the Unexpected
You don't have to spend a fortune on the perfect bathroom, but you should be prepared for the unexpected. There could be hidden water damage or processes such as plumbing repair that need to be completed. There's no way to know about these potential issues until one of our contractors conducts a comprehensive inspection of the bathroom area.
Because unforeseen issues may arise, it's a good idea to leave a 10-15% buffer in your suggested budget to account for any unpleasant surprises. You should have contingencies in place for any renovation project because you will almost certainly spend more than you planned.
Creating a Budget
While you should set aside some money for unforeseen issues, most of your budget will go into the remodel itself. Here are some of the things a bathroom redesign might encompass in terms of design:
Cabinetry

Plumbing and Faucets

Flooring

Sinks and Countertops

Lighting

Ventilation

Windows and Doors

Ceilings and Walls

Paint
It's up to you to select how much of your budget to devote to each design category. Home Kitchen and Bath Remodeling of San Diego designers and contractors can assist you in determining which areas require the most attention and developing design concepts that are within your budget. In the end, the decision is yours to make, but we are delighted to assist you in any way we can.
BATHROOM REMODEL SAN DIEGO: AREAS OF INTEREST
The Toilet
If the area isn't used efficiently and nothing works well, it doesn't matter how gorgeous it is. The toilet should be one of your top priorities; we all need it and use it. Therefore it should work perfectly and be positioned in a convenient location. If your money allows, you can add extras like heated seats or bidets, but the toilet must function properly at all times. Our contractors will make certain that your toilet's appearance and functionality are both flawless.
Bathroom Cabinetry
Because you'll be opening and closing these frequently, it's critical that they can survive the wear and tear of daily use. They should be water-resistant, easy to clean, and, of course, have enough storage space that is conveniently accessible. Everything from linen storage to the medication cabinet is included in this category. Our designers can come up with practical, cost-effective cabinetry solutions for you.
Flooring
When it comes to picking a bathroom floor, there are a few things to consider. Because it will always be wet, a non-slip surface is required. Bathroom floors are often tiled, but alternative possibilities include sealed hardwood flooring, vinyl, and even water-resistant, stain-resistant carpeting. We can assist you in locating flooring solutions that are both safe and appealing.
Sinks and Countertops
Because the sink and the countertop are both used regularly, they must be of high quality. There are many different sink styles to choose from, including:
Sinks – that are supported by the wall and leave a lot of space beneath them are known as wall-hung sinks.
Vessel Sinks – These are bowls that sit on top of the counter and require unique faucets due to their height.
Integrated Sinks — These sinks are flush with the countertop's surface, giving it a good consistent look.
Sinks that sit atop a narrow column are known as pedestal sinks. For smaller bathrooms, this is a fashionable option.
These are just a few of the sink designs available. One thing to consider when picking a sink is if you'll need new faucets as well, as this could have an impact on your budget if you don't think about it ahead of time.
Countertops should be tough enough to withstand day-to-day (and night-to-day) use demands. Spills of water, soap, and cosmetics, as well as the heat from hair dryers or curling irons, can all contribute to this. It should also be big enough to hold all of those things, or at least most of them, so they're easy to get to when you need them. It's great to have a surface that's easy to maintain, doesn't stain readily, and looks good. Granite and quartzite are two possibilities that meet the criteria, and both feature cost-effective options that can help you save money.
Bath and Shower
When choosing a bath or shower, there are a few things to consider: do you want both a bath and a shower, or just one? Will one person utilize it at a time or by multiple people at the same time? Do you want to use it as a bath/shower, or do you want to add spa-like accessories? Your choice will have a significant impact on the arrangement of the bathroom as well as your budget, so think carefully. Our designers and contractors can assist you in resolving such challenges and finding a satisfactory solution.
Lighting
You want everything to be well lit and all the lights strategically placed. All of the lighting should be bright enough to do cosmetics, shave, and so on without causing ugly shadows. The illumination should not produce excessive heat, as this may make the bathroom uncomfortable. The lighting should ideally be energy efficient because you don't want the bathroom to continue to cost you money after the makeover is finished.
BATHROOM REMODEL SAN DIEGO: OTHER CONSIDERATIONS
Other significant considerations are whether or not you intend to change the bathroom's layout. It may be necessary to add or remove walls, entrances, and windows and install new plumbing. If you have the funds, you can consider extras like heated floors, bidets, and shower chairs, among other things. Home Kitchen Bath Remodeling of San Diego can supply whatever you want or need in your new bathroom with the efficiency you require.
RELATED ARTICLES
Bathroom Remodeling Costs
Bathroom Remodeling Ideas
Bathroom Design
Bathroom Countertops
OTHER SERVICES
Solar Panel Installation
Roofing
Home Builder
Green Windows & Doors
Kitchen Remodel
Tex-Cote Paint
Garage Conversion
Room Additions
One of the most crucial areas in every home is the kitchen. It's where you start your day and where the family congregates. It might be a flurry of activity or a haven of peace and tranquility.
KITCHEN REMODEL PLANNING
The kitchen can reflect the overall tone and spirit of the house: it might be warm and inviting, sleek and modern, rustic and old-fashioned, a combination of those as mentioned earlier, or something totally different. Pacific Green Homes will assist you in creating a kitchen that precisely matches your own style and that of your home.
A full or partial kitchen redesign should be carefully considered because it is the heart and soul of the home. Consider how you currently use your kitchen, the type of shape and usefulness you desire in your new kitchen, and, of course, your budget. Any unanticipated expenses, such as structural, electrical, or plumbing issues, should be covered by contingencies.
Houses built more than fifty years ago may have asbestos or have an electrical system that isn't meant to handle several modern appliances. You should set aside a portion of your budget to handle unforeseen expenses. It's a good idea to have less expensive backups when it comes to tiles, countertops, appliances, and other such items. If you're flexible with your choices, you'll be able to roll with the punches if something unexpected happens.
CONSIDERATIONS OF A KITCHEN REMODEL
These are the big picture considerations you should make while remodeling your kitchen. Our designers can assist you with the finer points, but you should have a fundamental framework in place so that they can assist you more readily.
Size and Layout
Regardless of the size of the kitchen, it should be used to its maximum efficiency. Consider whether you have enough space for an island or a peninsula. A countertop attached to a wall that converts an L-shaped kitchen into a U-shaped kitchen might be a better option.
Consider whether eliminating a wall is an option if you need more space. Consider how you'll move around the kitchen if the outlets are easily accessible and where the various appliances are in relation to one another. We can assist you with the finer aspects once you've decided how you want the area to flow.
Existing Infrastructure
Check to determine if the infrastructure will be able to handle any of the renovations you have in mind. This entails inspecting the wiring, walls, and floors, particularly in older homes. Because any repairs will increase your budget, this is one of the first things you should do.
Know your Lifestyle
Do you come from a large family? Are you a better host than a chef? Are you a better chef than a host? Large families require a lot of storage space. Space is required for appliances and food preparation by home chefs. Hosts may require wine refrigerators, wet bars, and warming drawers. You can begin planning once you know how the kitchen will be utilized most frequently.
ELEMENTS OF A KITCHEN REMODEL
Countertops
There are low-cost and high-cost solutions available, but you should consider how the countertop will be used regardless of your pick. For diverse lifestyles, here are a few countertop options:
Quartz is a fantastic choice for families since it is scratch, stain, acid, and heat resistant, making it simple to keep clean. Glass and other fragile materials have a lower likelihood of shattering because it is more shock absorbent than other surfaces.

Stainless steel is a popular choice among chefs because it is easy to clean, heat resistant, and stain-resistant. Stainless steel is commonly used in restaurant kitchens because it does not contain bacteria from raw food.

Glass is a fantastic choice for entertaining since it is fashionable and attractive, and spills are simple to clean. Glass countertops are made of tempered Glass, which has a low danger of cracking or breaking. Recycled Glass is another realistic and environmentally friendly solution.

Laminate is a popular surface because it is cost-effective, practical, and available in a number of styles.
Cabinetry and Storage
Some elements are required in cabinets and those that are optional—if you have the funds for them. Plywood shelves and siding are required because particleboard might droop under larger weights. You can save money on cabinet materials by using veneer rather than solid wood. Soft-close drawers are also necessary for decreasing noise and impacts. Instead of stock cabinets, you can choose custom-made cabinets for a more opulent look.
Large households will benefit from a separate pantry for storage. Another option for adding extra storage without taking up too much room is to extend cabinets to the ceiling. Any home can benefit from pull-out garbage cans and recycling facilities. You can spend on items like appliance garages or utensil cabinets if you have the funds.
Appliances
Regardless of your lifestyle, you should always purchase energy-efficient appliances because they save you money in the long term. The types of equipment you will find handy are determined by your lifestyle. A large refrigerator and an efficient dishwasher are required for large families. Home cooks may require larger cooktops and ovens with advanced functionality.
Smaller appliances should also be considered. A blender, toaster oven, and food processor are all common household appliances. On the other hand, steam ovens, beverage centers, and warming drawers are more specialized choices. Your choice of appliance, like every other aspect of your kitchen remodel, is determined by your lifestyle and budget.
Backsplash
This isn't often considered necessary, but it gives any kitchen more purpose and visual intrigue. Here are some of the materials you can choose from to put the finishing touch on your kitchen remodel:
Ceramic And Porcelain Tiles — Because of their affordability and versatility, ceramic and porcelain tiles are one of the most popular choices.
Decorative Vinyl – is a cost-effective, useful, and simple-to-install option. A good option for customers on a budget.
Metal – comes in various forms, including stainless steel, tin, and copper. They are fashionable, but they are costly to buy and install.
Wood – it gives any kitchen a lovely natural appeal. Because they are frequently rescued from ancient wooden constructions, they are a green option.
Stone — it adds a warm, elegant aspect to any kitchen, but it requires a lot of upkeep.
Flooring
Because the kitchen is a high-traffic area, flooring alternatives are typically durable and easy to clean; thus, the decision is mainly based on affordability and style. Linoleum and laminate flooring are both low-cost options, with the latter coming in forms that mimic other materials like hardwood or stone.
Tile and hardwood floors are two mid-range options that can withstand the wear and tear of continuous kitchen usage. If you have the funds, you can choose high-end materials such as stone or wood, which will both last a long time.
Lighting
You might focus on a single light, or a set of lights, for the main preparation area when it comes to kitchen lighting. There are, however, specialty lights that bring elegance and functionality to the kitchen; here are a few of the lighting options:
Ambient lighting is the light that fills the entire kitchen. Pendant lighting is ideal for high ceilings or a ceiling fixture, which is a practical and cost-effective option.
Task Lighting – This sort of light is found beneath the cabinets and is useful for cooking and reading recipes.
Recessed lighting, toe kick lights, and lights positioned behind glass-fronted cabinets all contribute to the kitchen's bright, inviting appearance.
KITCHEN REMODEL IN SAN DIEGO
No matter how busy it gets, the kitchen should convey happiness to everyone who uses it. It is the home's heart and soul, and the design should reflect that. Home Kitchen and Bath Remodeling of San Diego promises that your newly remodeled kitchen will reflect your personality and that of your homee reflect that. Pacific Green Homes guarantees that your remodeled kitchen will be a true display of the character of you and your home.
RELATED ARTICLES
Kitchen Design
Kitchen Remodel Ideas
Kitchen Remodel Costs
Kitchen Countertops
Kitchen Cabinets
OUR KITCHEN REMODELING PROJECTS
Kitchen Remodelling Project in Sylmar, California
OTHER SERVICES
Bathroom Remodel
Roofing
Home Builder
Green Windows & Doors
Tex-Cote Paint
Garage Conversion
Room Additions
ROOM ADDITIONS SAN DIEGO
The requirements for room expansions, also known as connected ADUs (accessory dwelling units), have been relaxed in California, making it easier than ever to add a room to your home. So, what kind of room do you think you could add to your house? You can have whatever sort you desire! It's entirely up to you, and Home Kitchen and Bath Remodeling of San Diego will assist you in making your dream space a reality.
There are a variety of reasons why someone would require a room addition; for example, San Diego is experiencing a housing shortage, and a room addition that can be rented out can assist persons looking for a low-cost place to stay. There are few restrictions to what you can do with a room extension in San Diego; it can be utilized to accommodate a growing family, friends, or relatives that drop by unexpectedly, and even as a personal work or play space.
THE BASICS OF ROOM ADDITIONS IN SAN DIEGO
Regardless of the sort of room added to the house, it must blend in with the rest, both inside and out. Services such as plumbing, electricity, and HVAC from the interior must flow freely into the new area without feeling crammed in.
The room addition's interior style must also be consistent with the rest of the house. The same can be said for the room's exterior design; it must blend in with the rest of the house or stand out like a sore thumb. When a room addition is done properly, it will appear as if it has always been a part of the house.
WHERE ON THE HOME DOES THE ROOM ADDITION FIT?
You can build out or build up with an addition, which means you can add a room to the first floor or the second level of a house. A room addition can be used to add a second floor to a home that does not already have one. Both are legitimate options, but they each have their own set of benefits and drawbacks.
First Floor Room Additions
This is frequently a room addition, such as a guest room or even an extra kitchen or bathroom, that increases the property's overall size or footprint. In most cases, a new foundation is required to support the room expansion.
Pros of a First Floor Room Addition
There will be less interruption because you will live in your home while the addition is being built.
More Variation — more rooms of various types can be added.
A ground-floor addition is more complicated than a second-floor addition, but not nearly as much as a second-floor addition.
The Drawbacks Of Adding A Room To The First Floor
Reduced Yard Area — Adding a room requires lowering yard space, which may entail uprooting trees and removing or shrinking gardens.
Potential Red Tape – like the size of the home grows, numerous zoning variance requirements and setback regulations must be adhered to, which can be time-consuming.
An Alternate First Floor Addition
If you don't want to apply a fresh foundation, a Bump-out is a good option. This is a smaller room addition—more of a room extension—that hangs off the side of the house without the need for a foundation. If the current roof extends far enough, it may not be necessary to add a roof; if it does not, the roof may need to be extended to cover the bump-out. A bump-out is a safe, secure, and less expensive way to expand a room. It can be used to add a walk-in closet, expand a kitchen, and more.
Second Story Room Additions
A second story does not expand the house's footprint and does not necessitate the installation of a new foundation. However, to support the new room's additional weight, the current foundation may need to be reinforced.
The Benefits Of Adding A Second Story Room
No Loss Of Yard Space – the extra room will have no effect on the size of the yard.
Less Red Tape – You don't have to worry about zoning regulations or floor area limitations when you build up.
The Drawbacks Of Adding A Second Story Room
Highly Inconvenient — you won't be able to live in the house while the second story is being built, so you'll have to find somewhere to stay until it's finished.
Staircase Construction — constructing a staircase can free up a lot of space on the first floor.
Room variation is limited in second-story rooms, often limited to bedrooms or bathrooms.
THE STEPS OF BUILDING A ROOM ADDITION
Building a room addition is similar to building a house, but on a smaller scale, and requires similar planning.
Decide The Room's Size And Scale
Establish A Budget – remember to set aside 10% to 20% of the budget for an emergency fund to cover any unforeseen expenses.
Meet With The Contractor And Architect – They will assist you in finalizing the room addition's design and price.
Permit Acquisition And Site Preparation – the contractor will obtain all necessary permits and prepare the construction site.
Framing – After the foundation has had time to cure, the room addition's walls are built, followed by the wall panels and roofing.
Extension Of Utilities — the new room's plumbing, electricity, and HVAC systems are all connected.
Window Installation – windows are installed on the new structure's new walls.
Insulation And Drywall –  installation is critical since the new room must have the same level of insulation as the rest of the house.
Room Expansion – At this point, the room expansion begins to resemble the rest of the house in terms of flooring and painting.
Doors And Trim –  Work are the finishing touches on the room expansion, and once they're done, the new room is done as well.
THE BENEFITS OF A ROOM ADDITION IN SAN DIEGO
A room addition can raise the value of a property in addition to making it bigger and better. This is because more rooms normally equal more money on the real estate market. As a result, the money spent on the room expansion will be repaid by the house's increased value.
Of course, the main advantages of the expansion are more space and a fresh new room. It's impossible to describe how wonderful it feels to finally have the space you require. There is a room addition suited for you and your home because of the great range of rooms or room expansions that may be made via an addition. Let Home Kitchen Bath Remodeling of San Diego help you turn your dream space into a reality.
RELATED ARTICLES
The Average Cost of a Room Addition in San Diego
Types of House Additions
Room Addition Ideas
The Best Reasons to Build a Second Story Addition
Building Costs Affecting Room Additions in San Diego
Room Addition Ideas for Smaller Homes
Why Building a Room Addition is Better Than Buying a New Home
How a Room Addition Can Add to Property Value
OUR ROOM ADDITION PROJECTS
OTHER SERVICES
Solar Panel Installation
Roofing
Home Builder
Green Windows & Doors
Kitchen Remodel
Bathroom Remodel
Tex-Cote Paint
Garage Conversion
The cost of living in San Diego is among the highest in the country, making it difficult to find cheap housing. As a result, the California Senate passed Senate Bill-1069, which relaxes the restrictions on adding ADUs (additional dwelling units) to existing properties. Homeowners may now build additions to their homes more easily than ever before.
A garage conversion is one of the best sorts of ADU; as the name implies, this simply entails transforming the garage into a functioning living space. This is one of the greatest forms of ADU because it doesn't require a new foundation, additional walls, or any of the other requirements that come with connected or detached ADUs.
It takes some effort to transform a room designed for vehicles into a space designed for people, but the homeowner will appreciate the garage conversion in the end. Renters looking for economical accommodation in San Diego will appreciate it even more. Anyone interested in converting their garage into a living space—or any other kind of space—should call Home Kitchen and Bath Remodeling of San Diego for expert guidance and services on how to turn their car's home into a pleasant, inviting home for a lucky resident.
WHY CHOOSE A GARAGE CONVERSION?
The following are the most compelling reasons to convert your garage into additional living space:
Extra Income Stream — You may quickly recoup the cost of the conversion by renting out the room to desperate renters looking for a cheap place to live. The new room will begin earning money for the homeowner after paying the conversion costs.
Increased Property Value – A home with additional living space is always valuable because it may be rented out or utilized as an extra room for a family member. The versatility and functionality of the product add to its attractiveness to potential purchasers.
Ease Of Conversion — Of all the numerous forms of ADUs, a garage conversion is the most straightforward and practical. The rationale for this is that the room already exists and does not need to be rebuilt or expanded. Interior necessities such as electricity, windows, and plumbing must be installed, and the garage door must be converted to a regular door, but this is still less labor than constructing a separate or attached ADU.
Are There Any Drawbacks To Converting A Garage?
First and foremost, there is the question of where to park the automobile and any other items stored in the garage, assuming it is still in use. If there is enough room on the land, an additional garage can be created; if there isn't, a small shed can be erected to keep any extraneous goods from the garage. A carport, which is essentially a simple canopy that covers part of the driveway, can be created in the car(s) case. It's a straightforward, cost-effective solution that can be erected fast and safely while protecting the car from the majority of the elements.
A garage conversion could also wreak havoc on traffic flow throughout the house. If the garage is being transformed into a living space, getting used to entering it through the kitchen or any other room connected to the garage may take some time. Even if additional living space adds value to a property, the absence of a garage may detract from its value for certain homeowners, particularly if there is no other location to park automobiles. This is something to consider if the homeowner intends to sell their home in the future.
WHERE TO START WITH A GARAGE CONVERSION IN SAN DIEGO
Permits And Red Tape — While Senate Bill-1069 makes it easier to convert a garage, permits are still required to begin the project. Additionally, the local homeowner's organization may have its own set of rules and regulations that must be observed when making alterations to the home.
Budget — Just like any other home improvement job, you'll need to set aside money for it. The garage can be turned into a living area, a home office, a home gym, or a hangout room—like a man-cave—all of which have separate budget and design issues. As with any home improvement project, an emergency fund of 10% to 20% of the total budget should be set aside in case the homeowner encounters any unanticipated situations.
Window Positioning – Garages are often dark spaces, and while additional lighting will be required, natural light should also be provided by the placement of windows. One of the issues of the garage conversion is where to place these windows, as they may need to be used for ventilation as well.
Insulation is required regardless of how the newly converted garage will be used. Otherwise, it will become a distasteful place to spend any amount of time. Building codes will almost certainly have to be observed, particularly in regards to the R-value, which measures the insulation's ability to tolerate heat loss. The room's enclosing elements must be insulated, such as the walls, roof, and floor.
Tile is a fantastic alternative for floors, especially if the homeowner is performing the work themselves; however, wood flooring is more demanding and may require professional installation. The concrete slab of the garage floor should be treated before the flooring is installed to prevent moisture from entering through tiny fractures on its surface.
Walls: The type of material used on the exterior walls determines how well the interior walls are insulated. In most cases, fiberglass insulation is employed; however, spray-foam insulation is sometimes used instead.
Ceiling insulation follows the same steps as wall insulation. It is, nevertheless, vital to check for any small gaps that could allow moisture to enter the space.
New outlets will need to be added or relocated if the new room is used with standard appliances and electronic equipment. Plumbing lines will need to be installed if the garage is being turned into a dwelling space. The expense of the conversion rises as more plumbing and electricity are added, but the room—and the house—becomes more valuable.
CONSIDER A GARAGE CONVERSION FOR YOUR SAN DIEGO HOME
Because obtaining a permit for a garage conversion is now easier than ever, now is the best time to take advantage of the opportunity—especially if the garage is transformed into a living area. Because a garage is the simplest of all the different types of ADUs, it is one of the finest methods to increase the value of a home without taking up any additional room.
Please contact Home Kitchen and Bath Remodeling of San Diego if you are interested in turning your garage into a new room. We'll assist you in taking advantage of the California government's opportunity for residents who are ready and eager to expand their living space.
The kitchen and bathroom are two rooms in your house where you will almost certainly spend a lot of time. With that in mind, shouldn't they be the spaces in which you feel most at ease? Allow the experts at Home Kitchen and Bath Remodeling of San Diego to create a bespoke kitchen and bathroom that is tailored to your preferences, space, and budget. Our bathroom and kitchen remodeling services can provide you with the space that you've always desired. We can give you a redesign that you will enjoy, whether you are searching for custom cabinets for your kitchen or vanities for your bathroom.
RELATED ARTICLES
Garage Conversion San Diego Permit
Garage Conversion Requirements San Diego
Garage Conversion Ideas
OTHER SERVICES
Solar Panel Installation
Roofing
Home Builder
Green Windows & Doors
Kitchen Remodel
Bathroom Remodel
Tex-Cote Paint
Room Additions
BELOW ARE SOME OF THE MANY HOME INTERIOR SERVICES THAT WE OFFER