HOME WORK OFFICE IN SAN DIEGO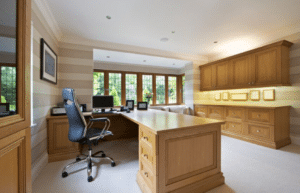 Working from home is more popular than ever, and the number of remote or telecommuting employees has grown significantly over the previous decade. Remote work enables employees more flexibility and a better work-life balance, and it appears that there are more remote job listings every day in industries such as consulting, real estate, mortgage, digital marketing, accountancy, and many more, and they continue to rise every year. Even now, the number of telecommuting workers is anticipated to grow as new trends in remote work emerge.
Without a doubt, both employees and enterprises have validated the benefits of working remotely, and the trend of telecommuting is predicted to continue. Furthermore, as more people prefer to work from home, more trends and new technology will emerge in the coming years.
If this describes you and you're wondering how to set up a homework office in San Diego, call Home Kitchen Bath Remodeling of San Diego right away. We'll collaborate with you every step of the way to make your dream of a personalized home office in San Diego a reality!
CREATING A HOME WORK OFFICE YOU'LL ACTUALLY WANT TO WORK IN
Embrace Natural Light
When designing your home office, one thing you should avoid is making it look like a cubicle. You should also avoid putting it in the darkest corner, believing it will suffice. After all, this is where you will be spending most of your time. Your workstation or office should be adjacent to a window so that you can get enough natural light. This ideal configuration will provide you with the benefits of natural light as well as an incentive to take a break from your computer every few minutes to enjoy the scenery.
Include Interesting Lamps
Even if you have plenty of natural light, you will require supplemental illumination throughout the darker hours of the day. When you're working, most overhead house illumination is insufficient. On the contrary, it might give a room the appearance of a hotel lobby. Consider a few table lights, which provide a beautiful, gentle glow and fascinating design options.
Add Necessary Storage
You can be creative with your storage options, just like you can be creative with the cubicle image you wish to leave behind. Boards and shelves can be used to add storage to walls. If you require even more storage, some excellent bookcases can be appropriate. They are also professional enough to serve as a backdrop for video conferences. Add some doors to the bookcases to conceal papers and other stuff that can be difficult to keep orderly.
Power Outlets Everywhere
As your contractor, make sure to add power outlets and USB connections not only near your desk but also in any other areas where you might work, read, or video conference. Forget about power cords tangled beneath your desk or strewn across your floor.
Think Comfort
Spend money on comfortable furniture, beginning with a chair that makes you want to sit for hours. Otherwise, you'll be continually seeking reasons to avoid sitting at your desk. Include a comfortable seating space, such as a well-cushioned recliner or sofa with an ottoman. There will be times when you need to step away from your workstation to think about your next project or simply close your eyes for a few minutes before moving on to the next phase of work.
At Home Kitchen Bath Remodeling of San Diego, we will collaborate with you to design the home office that is best suited to your needs, and we will guarantee that the trip is as enjoyable as the outcome. Whatever your vision is for this area, we will ensure that your homework office in San Diego stands out like no other.
Our Interior Remodeling Services