▷3 Differences Between Reface And Refinish In San Diego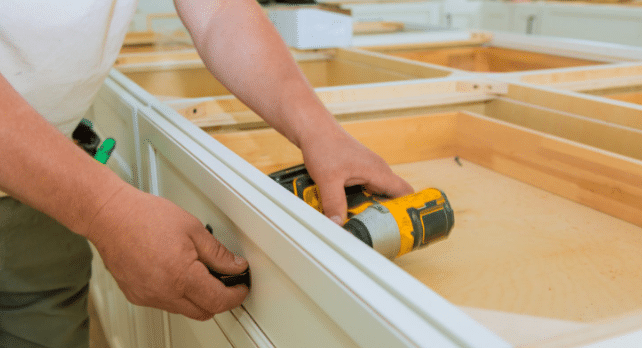 3 Differences Between Reface And Refinish In San Diego
Refacing and refinishing are two distinct restoration techniques used to enhance the appearance of cabinetry that is harmed, worn out, or just out of date. Additionally, they do not yield the same outcomes for you.
The kitchen cabinets are disassembled, the old paint or stain is removed using sandpaper or a stripper, and then fresh paint or stain is applied in the same or a different color scheme. The same wood door style remains after refinishing, but with a fresh finish.
Older doors occasionally fit incorrectly or are bent. This cannot be fixed by refinishing in a different stain shade. Additionally, if you have external hinges, you will still have to deal with the holes if you decide to switch to internal hinges.
An expert in cabinet refacing, or a do-it-yourselfer, removes the old doors, false fronts, and drawer fronts before covering the frame with a veneer of real wood or laminate and totally replacing the doors and drawer fronts with materials that match.
Although refinished cabinet surfaces first appear to be quite lovely, they frequently peel or scratch easily, crack, or lose their color after being exposed to heat and moisture for a few weeks or months.
As re-painted or re-stained portions can stand out as flat, bright, excessively clean, or shiny patches against the remainder of a finish aged by sun exposure and heat, refinishing all of the cabinets again is often the only option to restore medium to large cracked or peeling regions.
Refinishing necessitates the employment of hazardous substances that continue to emit fumes after the project is finished. Refinishing takes a lot of time and effort.
Refacing produces more than just a visual improvement. The refacing procedure, wood substrate, and veneer actually work to strengthen the framing of the original cabinet, possibly extending its lifespan.
It is not necessary to reface all the cabinets after a section is damaged.
Instead, a cabinet renovator is frequently able to take out the broken piece and replace it without leaving any trace of the repair
Which Will You Choose: To Reface Or To Refinish?
Now that you are aware of the distinctions between refinishing and refacing, it is time to decide which approach to take when redesigning your next kitchen. To help you maximize your investment, set up a free in-home design consultation with a Home Kitchen Bath Remodeling specialist.

FAQs
After Remodeling, What's Next? 
Sweep and vacuum walls and ceilings. 
Clean and disinfect floors. 
Vacuum furniture. 
When Remodeling, What's First? 
The kitchen should be one of the first projects homeowners tackle because it's where guests spend the most time. 
How Do I Remodel? 
Key Lockbox. 

Space out. 

Realize your timeline. 

Unpredictable. 

Multiple contractor interviews. 

Kitchen first. 

Specify design ideas.
Home Kitchen Bath Remodeling has built expansions (on time and on a budget) and would love to help you. Request a free consultation at (619) 489-9819 if you're ready to build an extension.
Conclusion
You can rely on Home Kitchen Bath Remodeling to complete your extension project on schedule and within budget. Call (619) 489-9819 to schedule your no-cost initial consultation.
Contact Home Kitchen Bath Remodeling today for al your remodeling needs.

BELOW ARE SOME OF THE MANY HOME INTERIOR SERVICES THAT WE OFFER
---
---
---