▷Choosing A New Sink And Faucet In San Diego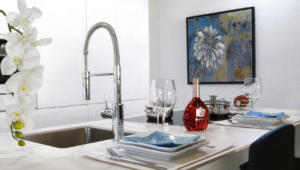 Choosing a new sink and faucet for your kitchen remodel is an unexpectedly enjoyable part of the process! Sinks and faucets, unlike countertops and cabinets, are highly flexible, and you may pick the majority of what you prefer at first glance. The most important consideration would be to match the finish to your current cabinet hardware. Mismatched finishes create a jumbled appearance in the kitchen. Following that minor stumbling block, there are a few things to consider when selecting a new sink and faucet, but the options are endless! 
Sink Materials & Function
When it comes to picking a sink, the first thing to consider is how you will use it. Some materials are more durable than others and are designed for more rigorous use. If your family is prone to throwing stuff in the sink or doing a lot of dishwashing, stainless steel is the way to go. Enamel-Coated Cast Iron is a traditional material that produces some of the best-looking sinks, but it is prone to scratches and requires extra upkeep. (HGTV). It's a fantastic material for a really light-duty sink! Composite sinks, which come in a number of colors, are a good alternative for those on a tight budget. Composite is a tough material, although it's not as tough as stainless steel. 
Because of the space between the countertop and the sink, under-mount sinks are a little more difficult to clean. Solid surface sinks are ideal for families who wish to keep things tidy. 
Faucet Types
Your personal preference, as well as the type of plumbing already installed in your room, will determine whether you choose a single handle, double handle, pull down, or separate spray faucet. Any of those faucets will not have a significant impact on your kitchen's design style. If you choose a commercial style or pot-filler faucets, they will fit in well with a more industrial and modern kitchen. The finish of your faucet will help you get the look you want, whether it's rustic, contemporary, modern, traditional, or something else entirely. Bronze is ideal for a warm, farmhouse-style kitchen. A modern aesthetic can be achieved using zinc alloy or stainless steel, both of which are popular in kitchen remodels. 
Helpful Tip: If you're merely replacing your faucet, keep track of how many holes are drilled in the sink. Some new faucets come with a plate to cover up extra water line holes you don't need, but some don't, and you don't want to have to switch faucets back and forth. 
Visit our Home Kitchen Bath Remodeling of San Diego showroom to see our numerous sink and faucet options, which come in a variety of forms, sizes, materials, and colors. This showroom is the ideal source of renovation ideas! Schedule a completely free virtual consultation with one of our professional design consultants once you're ready to start your renovation project.
BELOW ARE SOME OF THE MANY HOME INTERIOR SERVICES THAT WE OFFER
---
---
---