▷Choosing A Countertop Material For Your Kitchen In San Diego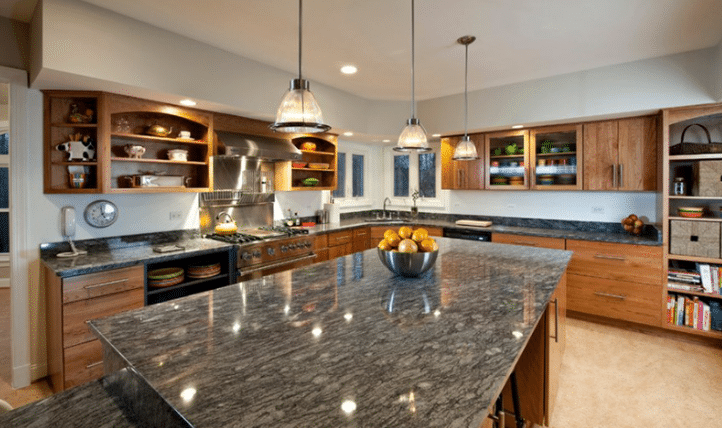 It's been on your mind for a long time, and now is the perfect moment to update your kitchen countertops! If you're like most of our customers, there's a specific material you've wanted to use for months, if not years. Even if you're ready to commit, cost or practicality can be a stumbling block in people's decision-making when it comes to this remodeling endeavor. To assist you in making the decision, our consultants have compiled their perspectives on the benefits and drawbacks of common countertop materials. 
Glass Countertops
There are numerous advantages to installing glass countertops. The nonporous surface makes cleaning a breeze and prevents bacteria from forming on the surface. (HGTV) It may be made into any shape, size, or color, allowing you to express your originality in terms of design. Glass is one of the more expensive materials to use, and it has a decidedly modern feel to it, so it's not the best choice for a farmhouse or rustic kitchen.
Stone Countertops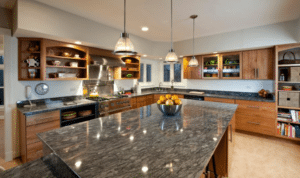 There are a few trendy stone countertop options to choose from when it comes to your new kitchen makeover. Soapstone shares many of the advantages of Glass, such as being nonporous and easy to clean. It also doesn't need to be sealed every year and simply has to be treated with mineral oil once a year. (HGTV) Silestone, for example, comes in a variety of hues and is heat and scratch-resistant. In contemporary and modern kitchens, stone works best. 
Concrete Countertops
Concrete is a low-energy countertop material that absorbs heat from your home and releases it as the temperature drops. By embedding other materials into the surface, staining, or stamping, it's simple to personalize. Concrete countertops can boost the resale value of your property because it is considered premium material. It is, however, unexpectedly costly and difficult to install. 
Granite Countertops
For many homes, granite is by far the most popular first choice. It adds beauty to any kitchen design and gives your room a lot of personalities because no two slabs are the same! This makes matching slabs difficult, and it also necessitates a fair amount of upkeep. The attractiveness and durability of real stone often exceed the disadvantages of granite countertops. 
Tile Countertops
Choosing tile for your kitchen countertops requires deciding on a variety of options. There is a plethora of color, sizes, and style possibilities available. Due to the grout lines, it can be difficult to keep clean and is not as smooth as some might think. Many people, however, believe that the advantages of being able to easily repair damaged components and the lower material costs outweigh the disadvantages.
Wood Countertops
Wood countertops are ideal for creating a particularly cozy and warm kitchen atmosphere. Because wood is extremely heat resistant, you can safely remove pots and pans from the stove. This material is sanitary for all kitchen prep, including cutting up meat, as long as it is properly sealed. Wood is a more cost-effective choice; however, prices vary based on the type of wood and the demand for it. Because all wood expands and contracts in response to changes in temperature, it's crucial to keep an eye on the movement of the counters. 
Marble Countertops
This wonderful fabric is currently in high demand all around the world, and it does not appear to be going away anytime soon. Marble is similar to granite in that it offers distinctive patterns that provide a unique element to your house. Designers can choose from a variety of colors, and marble is similar to granite in that it offers unique patterns that add a unique element to your home. If you want to renovate your kitchen with marble, ensure the business you employ to install it offers a warranty on the material! Many contractors will not take the chance because marble is porous and absorbs liquid rapidly. 
The design professionals at Home Kitchen Bath Remodeling of San Diego are ready to suggest the appropriate material for your family and renovation needs. View a variety of countertop materials in our showroom. If you don't see what you're looking for, our team can order it for you! Let's get started with a no-obligation design consultation over Zoom.
BELOW ARE SOME OF THE MANY HOME INTERIOR SERVICES THAT WE OFFER
---
---
---