▷What You Need To Know About Walk-In Tubs In San Diego
Walk-in tubs, unlike ordinary tubs with a high edge to step over, have a door that allows users to walk right into the tub. They must step over a short curb, usually only a couple of inches high. Instead of losing balance while getting in, the walk-in feature helps customers to stay upright and steady. This significantly lowers the risk of slipping in the tub. Walk-in tubs are also available in a variety of sizes to fit both small and large bathrooms, as well as a number of amenities that normal tubs lack. 
Below are tubs with all of the fundamental safety elements, like as grab bars and non-slip surfaces, as well as Home Kitchen Bath Remodeling of San Diego's favourite characteristics of each: 
Kohler Belay Walk-in Tub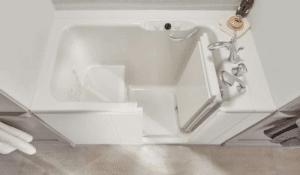 With the Kohler Belay Walk-in Tub, you can't go wrong. This is a tried-and-true model that will fit many different design types and look attractive in most houses. Because of its sleek, modern front design, we believe it is the best-looking walk-in tub. It includes a 3″ curb (lower than usual), as well as a filler ledge that allows it to fit into areas ranging from 52″ to 60″ wide and 28″ to 32″ deep. This makes it ideal for compact bathrooms, while the unusual ledge provides storage for bath goods. The Kohler is also highly customisable, offering a variety of shower wall finishes, two colour selections, and a variety of fixture and faucet types. With only this one item, you can completely transform the aesthetic of your bathroom. 
The Shower Package add-on includes a clear, frameless shower wall and a beautiful, high-end appearing gooseneck shower arm with head. It pivots open to allow for easy cleaning and control access. 
Safe Step Walk-in Tub
The Safe Step Walk-In Tub has the most features and one of the most durable frames available. Hydrotherapy jets, an aromatherapy oil slot, and chromotherapy are all included in this tub (colored lights). In addition, a built-in bidet in the seat and a filtration system clean the water while the tub is in use with an ozone generator. The most comfortable bathing experience is ensured by anti-scald technology and a sanitary gel covering. The Safety Step also has a built-in headrest that can be adjusted, a warming seat and backrest, and a towel bar on the tub.
*BONUS* Unlike others on the market, this tub has a high quality aluminum frame for added longevity.
Below is video about the Safe Step Walk-In tub.
BOCA Walk-In Tubs
Customers can choose from the widest range of sizes and deepest soaking choices with BOCA tubs. This manufacturer delivers a just over 2″ threshold – one of the lowest on the market – by constructing a frameless fibreglass tub. It's available in seven sizes, starting at 48″ wide to fit almost any modest bathroom. There are two deep soaking sizes available, as well as air massage and whirlpool jets. The last two are able to work together! Aromatherapy, light therapy, custom tub colours, sound system, tub wall surround, and many other modifications are all available with a BOCA.
*BONUS* There's also a unique two-seater model.
BELOW ARE SOME OF THE MANY HOME INTERIOR SERVICES THAT WE OFFER
---
---
---